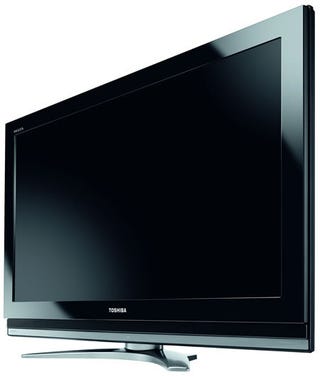 After everyone has jumped on the Full HDTV bandwagon with both feet, Toshiba has said WTF and is launching their new X and Z series, two Regza LCD lines that are 1080p-ready and go up to 57 inches.
Both come with 3 HDMI sockets, so you can connect them to a HD DVD, a PlayStation 3 and even to the Xbox 360 Elite's lame HDMI port at the same time, all without having to use HDMI switch. The X series will come in 40 and 46 inches, while the Z will be available in 37, 42, 47, 52 and 57-inch flavor, with added Active Vision M100 support, Toshiba's technology to reduce flicker. Pictures of the Z model, in Darth Vader shiny-shiny black, right after the jump.
The Z series, available in Darth Vader black.
The X series, on the stand.
Toshiba X and Z series TVs launched to offer viewers choice [Pocket Lint]