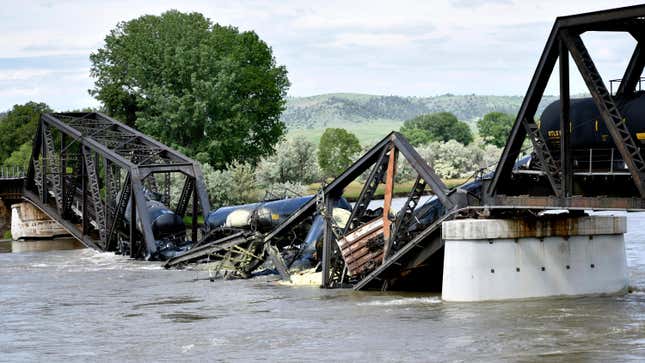 A bridge that crosses over the Yellowstone River in Montana collapsed on Saturday morning, dropping parts of a freight train into the river below, authorities said.
Several of the train cars were carrying molten sulfur and hot asphalt, according to an alert from the Stillwater County Disaster and Emergency Services. In response, local officials shut down drinking water intakes downstream as a precaution, the Associated Press reported. A statement from Montana Rail Link, the train's operator, on the county's official website outlined what officials could confirm this weekend:
"Initial assessment indicates compromised rail cars contained molten sulfur and asphalt. Both substances solidify rapidly when exposed to cooler temperatures. Two cars carrying sodium hydro sulfate are also included in the consist. Neither of these cars have entered the water and initial air quality assessments have been performed and confirmed that there is no release event associated with those two cars. The present focus of operations is safely responding to the emergency, controlling all releases and mitigating impacts. Throughout the response MRL will work with local, state and federal partners to assess impacts to natural resources and to develop appropriate cleanup, removal and restoration efforts."
According to the alert, both the operator and county officials are coordinating further cleanup efforts with the appropriate federal agencies. Workers with the Montana Department of Environmental Quality tested water from nearby waterways and treatment facilities on Sunday. They could not find negative impacts from the materials in the cars, the New York Times reported. Authorities are still investigating the cause of the collapse.

You can see the aftermath of the collapse in the slides ahead.
Want more climate and environment stories? Check out Earther's guides to decarbonizing your home, divesting from fossil fuels, packing a disaster go bag, and overcoming climate dread. And don't miss our coverage of the latest IPCC climate report, the future of carbon dioxide removal, and the un-greenwashed facts on bioplastics and plastic recycling.