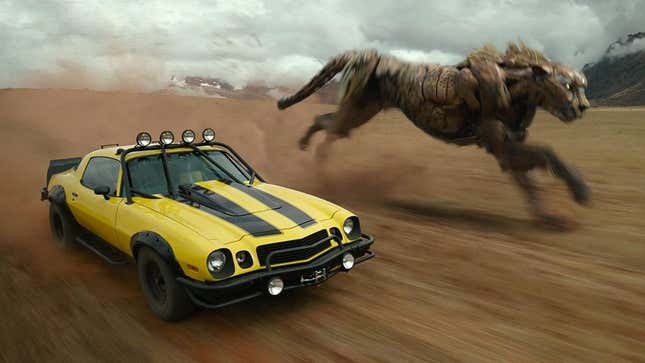 After years of being brutalized by godawful Transformers movies, audiences are seemingly not yet ready for the idea of a good one. That much was evident back in 2018 when Paramount released Bumblebee, a lean, mean, heartfelt version of a Transformers movie that exceeded critical expectations, but underwhelmed at the box office. So even though Bumblebee, the last Transformers movie, was actually good, it's unclear if audiences are yet ready to accept such a thing.
Potential Crossover with Transformers | io9 Interview
The new film, Transformers: Rise of the Beasts, hits theaters June 9 and brings with it similar expectations. Could this movie, which is set after Bumblebee but before the original Michael Bay films, actually work? The one with the Maximals from Beast Wars? The one with Unicron from the 1986 animated film? Well, according to social media reactions after some of its first screenings, the answer seems to be "Yes."
Here are a collection of reactions, beginning with mine.
As you can see, basically everyone had fun with the movie. And that's the main thing here. "Good" and "Transformers movie" have to be married at some point. Transformers: Rise of the Beasts isn't going to be nominated for Best Picture like last year's mega-blockbusters Top Gun Maverick and Avatar: The Way of Water. Those are actually "good" movies. Transformers: Rise of the Beasts isn't that—but, it's a "good Transformers movie."
A movie that works at what it sets out to do—showing you giant robots blowing shit up for two hours—and hopes that you're invested in it thanks to the humans who are experiencing the story along with you. And all that it does very well.
But no, I won't tell you what happened at the end of the film that made me almost jump out of my seat.
Directed by Steven Caple Jr., Transformers: Rise of the Beasts stars Anthony Ramos and Dominique Fishback. It opens June 16.
---
Want more io9 news? Check out when to expect the latest Marvel, Star Wars, and Star Trek releases, what's next for the DC Universe on film and TV, and everything you need to know about the future of Doctor Who.