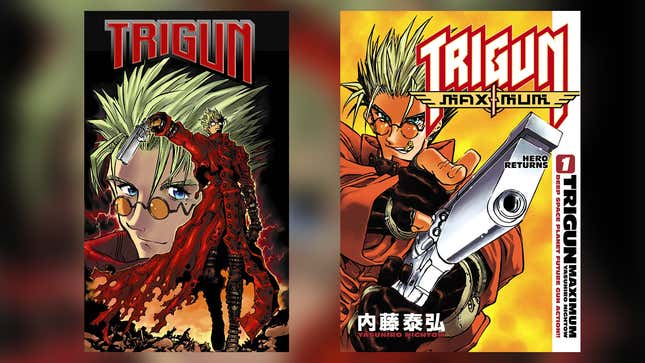 After years of waiting—and some very convincing tweets by a Twitter user who goes by the name of Bigolas Dickolas Wolfwood—Dark Horse has announced that it will be releasing two hardcover deluxe editions of the orginal Trigun mangas. Anime News announced that the collected Trigun will be available in bookstores on December 6, just in time for holiday shopping, while the collected Trigun Maximum will launch in April 2024.
Jujutsu Kaisen 0 Has Infectious Good Energy
This is genuinely wonderful news. Trigun didn't achieve a lot of popularity in Japan when it was serialized in Tokuma Shoten's Monthly Shonen Captain magazine, but was just popular enough to be picked up in 1997 by Shonengahosha's Young King Ours. The anime adaptation, however, brought Trigun to Western audiences in a huge way, and resonated much more with an international audience.
The manga ran for 12 years, from 1995 to 2007, and inspired multiple media spinoffs. That includes the current anime reboot, Trigun Stampede, a beautiful reimagining of the Trigun story and mythos, with the complete manga available to draw from—something the 1998 anime series didn't have.
Trigun stars Vash the Stampede, a former mercenary turned pacifist who still has a huge bounty on his head and is attempting to live peacefully on the desert planet Gunsmoke. An incredibly tongue-in-cheek series, it also follows journalist Meryl Stryfe and her assistant Milly Thompson as they try to interview Vash, as well as Nicholas D. Wolfwood, a man of God who has adopted the tenet "Thou Shalt Not Kill." He and Vash kill a ton of people; it's all very ironic.
I'm so excited this series is coming back. Trigun was one of the first anime I watched that I truly loved, right up there with Utena, and I cannot wait to get my hands on this. Trigun Deluxe Edition will be available December 6. Trigun Maximum Deluxe Edition will be available April 2024.
---
Want more io9 news? Check out when to expect the latest Marvel, Star Wars, and Star Trek releases, what's next for the DC Universe on film and TV, and everything you need to know about the future of Doctor Who.