The TSA is preparing to introduce "more rigorous" and "comprehensive" physical inspections at airports around the country, according to a new Bloomberg report. The security agency is reportedly replacing its five different types of physical pat-downs with one universal method that involves heavier groping.
The Transportation Security Administration quietly made the announcement to its agents this week, warning them, at least, that the new pat-down method "may involve an officer making more intimate contact than before," according to the Bloomberg story.
Bloomberg also notes that the TSA "didn't immediately address" whether the new method of pat-downs mandated touching passengers' genitals. When we asked a TSA spokesperson the same question, we received a rather curt answer.
"The answer to your question is 'No,'" said Michael England, National Spokesperson for Transportation Security Administration. "The new protocol does not mandate the touching of passengers genitals."
G/O Media may get a commission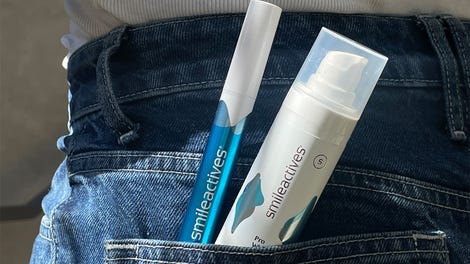 58% off
Whitening Powerhouse Pen & Gel Duo
Nonetheless, the TSA is in desperate need of change and the physical inspection would be a great place to start. The agency has been ridiculed for years for causing delays at airports and being largely ineffective at detecting contraband.
In 2015, an internal investigation by Homeland Security found that the TSA failed an unbelievable 95 percent of airport security tests, allowing undercover agents to successfully and repeatedly smuggle mock explosives and banned weapons through checkpoints in the country's busiest airports.
The physical screening process has been a stress point for the TSA practically since its inception. The agency has tried to make travelers more comfortable by doing little things, like pairing them up with people of the same sex for pat-downs and also giving people the option of being inspected in a private room. For most people, it still doesn't answer one of the most confounding questions about the TSA: Is America really any safer because some underpaid worker grabbed my balls at the airport?

Update 5:54 p.m. ET: Michael England, National Spokesperson for Transportation Security Administration, sent Gizmodo the following statement about the procedural change.
The TSA consolidated previous pat-down procedures into one standardize procedure at airport security checkpoints and at other locations within the airport. This standardized procedure continues to utilize enhanced security measures implemented several months ago, and does not involve any different areas of the body than were screened in the previous standard pat-down procedure.

Individuals transiting the TSA security checkpoint who have opted out of technology screening, or alarmed the technology or a canine team, will undergo a pat-down. Passengers may also receive a pat-down as part of our unpredictable security measures. TSA continues to adjust and refine our systems and procedures to meet the evolving threat and to achieve the highest levels of transportation security.