Oh my god, there's actually video games coming out this week. More than one too! 2015 has finally decided to start... just about. Let's talk about what you've been getting up to with games in this week's edition of Tuesday Game Room!
What have you been playing this week?
Outside of my usual Warcraft nonsense, with a side of Warframe, I've not been playing many games this week, but I did do something gaming related. I... wanted an Amiibo? I'm crazy. I mean, I should be right?
Watching last week's Nintendo Direct, when they announced a new wave of the little toy-to-life buggers, including Lucina and Robin from the most recent Fire Emblem game. I've otherwise avoided all this stuff - no Skylanders, no Disney Infinity (not even when they did Marvel), no Amiibo because I didn't have a Wii U, and there wasn't really many characters I was interested in. I always played the Fire Emblem characters in smash bros. anyway - so seeing Robin and Lucina, and knowing the new 3DS would have amiibo functionality, it sort of clicked in my brain. And I promptly went insane. I hunted for a Marth at retail price. I preordered Ike and Toon Link (THE ONLY LINK WORTH A DAMN). I refreshed Amazon repeatedly waiting to preorder Robin and Lucina.
G/O Media may get a commission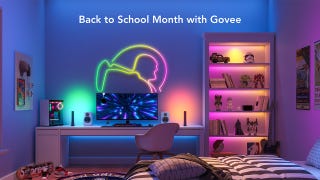 Back to School
Back to School Month with Govee Sale
I have a problem. I know. But these are the only ones I want though. No way I'll get more.
Unless they release a Roy. Shit.
New Releases!
VIDEO GAMES AT RETAIL, OH MY GOD. It feels like it's been yonks! Okay, so it's not much, but still. Saint's Row IV: Re-Elected Edition and its standalone addition, Gat Out Of Hell, hit the PS4, PC and Xbox One this week (Gat out of Hell is also out on 360 and PS3) - as is the new remaster of Resident Evil. Citizens of Earth comes to 3DS, Wii U, PS4, Vita and PC, Blackguards 2 comes to the PC, and finally, Best of Arcade Games hits the PS3 and Vita.
Told you it's not much. But it's something, dammit.
And now, the News
Once again it's time for a few select picks from the last week of Gaming news, via Eurogamer:
We'll be back this time next Tuesday for more gaming discussion, but for now, sound off in the comments with the games you've been playing, and what you're looking forward to this week - and don't forget to join the unofficial io9 community group on Steam!
---
You're reading Toybox, io9's blog for all things pop culture. From merchandise to awesome fan creations, TV recaps and critical commentary on the hot topics of the day, you can find it all here!