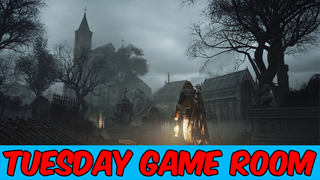 It's still all quiet on the gaming front in these early days of the year, but Ubisoft are hoping to right some of the wrongs for their latest Assassin's Creed game with some free DLC this week. Huzzah! Will you try it out? Still dipping into your Winter haul? Come tell us in Tuesday Game Room!
What have you been playing this week?
Alongside my usual WoW shenanigans, I've been playing some Warframe this week!
I'm a regular listener of the Giant Bombcast and their recent talk about the game stirred me to try it out - after all, it's free to play so there was no real harm. It's basically Destiny, but way quicker to get in and out of stuff and replacing the bullshit with... well, free-to-play bullshit. It's fine just as a thing to jump in, play a mission or two and jump out, but any real progression is tied behind insidious 'hey wait three days for this thing to build or you could pay us and have it RIGHT NOW!' nonsense. It's a shame because I quite like the base structure as it is. Plus, I have a sweet space bow that shoots laser arrows and pins people to walls in some physics-engine-breaking hilarity.
I like bows. Bows are fun and should be in more video games.
New Releases!
It's another light release week - considering the highlight is the now-free DLC for Assassin's Creed: Unity, Dead Kings hits Xbox One, PS4 and PC. It's pretty much an all digital week too - there's also the beta for Evolve coming to Xbox One, and PS4 later in the week, and (stop me if you've heard this one before) the open world survival-focused multiplayer Zombie apocalypse game H1Z1 from Sony, coming to early access on PC.
I'm looking forward to games coming out again. Soon, maybe?
And now, the News
Once again it's time for a few select picks from the last week of Gaming news, via Eurogamer:
We'll be back this time next Tuesday for more gaming discussion, but for now, sound off in the comments with the games you've been playing, and what you're looking forward to this week - and don't forget to join the unofficial io9 community group on Steam!
---
You're reading Toybox, io9's blog for all things pop culture. From merchandise to awesome fan creations, TV recaps and critical commentary on the hot topics of the day, you can find it all here!