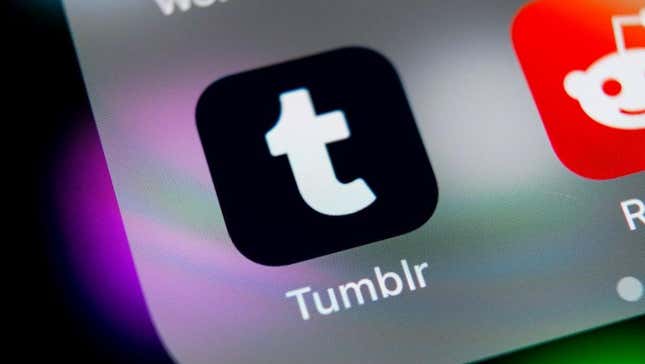 Tumblr created a shakeup in the digital world this week when it reported an 125% revenue increase from iOS in-app purchases—from what seemingly started out as a simple parody. The company introduced its double blue tick option which was initially meant to show that using subscriptions for verification serves no real purpose.
But then something unexpected happened; Tumblr's revenue surged. What started as a joke, turned real, as users began signing up for the blue tick subscription option proving that sometimes the collective needing to be a part of something is enough of a reason to join in.
Tumblr introduced the subscription in November, just days after Twitter CEO Elon Musk announced users would have to pay $7.99 to get a blue checkmark on their profile. Not to be left behind, Tumblr jumped on board and conveyed it was a not-so-secret parody in the search bar for the big reveal, which reads, "Hi, we're introducing completely useless blue."
Following the blue-tick addition on Tumblr, intelligence firm Sensor Tower found that the social media's iOS app increased, bringing the company $263,000 in net revenue, TechCrunch reported. While this may not seem like a lot of money, in-app purchases increased by 19%, and the blue-tick subscription service bumped Tumblr's revenue by 125% compared to the same timeframe in 2022.
Tumblr did not immediately respond to Gizmodo's request for comment.
Twitter's blue option required its users to pay a monthly subscription fee and advertised the subscription service as, "Power to the people: Your account will get a blue checkmark, just like the celebrities, companies, and politicians you already follow," for the low price of $7.99 per month.
Unlike Twitter's attempt to squeeze its users of nearly $8 each month, Tumblr's blue-tick option is a one-time payment, which appears to be meant solely as a parody.
A brief description accompanied Tumblr's announcement, saying, "You can never be too important for the internet" above the blue tick description which says, "Hi! We're introducing Important Blue Internet Checkmarks here on Tumblr."
The site continues, "They're a steal at $7.99—that's cheaper than some other places, when you consider that you get not one but TWO checkmarks for your blog on web only (for now). Why, you ask? Why not? Nothing matters!"