In an effort to rescue 38 soldiers and the remains of Suleyman Shah — the "grandfather of the Ottoman Empire" — from ISIS forces, Turkey yesterday dispatched hundreds of soldiers, tanks, aircraft, and drones to a tomb in Syria.
According to Article 9 of the Treaty of Ankara signed between Turkey and France in 1921, the shrine of Suleyman Shah is sovereign Turkish territory (France governed Syria back then). The tomb — an 8,000 square meter enclave guarded by Turkish troops — is located 19 miles (30 km) south of the Turkish border.
Suleyman Shah was the grandfather of Osman I, the founder of the Ottoman Empire. He drowned in the Euphrates River in 1236.
According to ISIS's fundamentalist Salafi interpretation of Islam, the veneration of shrines is considered idolatry. To that end, they have been destroying other tombs and mosques in both Syria and Iraq.
G/O Media may get a commission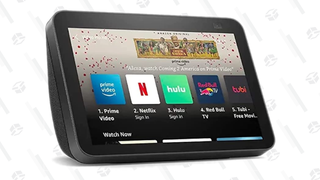 The purpose of the Turkish mission, dubbed Operation "Shah Euphrates", was to protect the soldiers and the remains of Suleyman Shah from Islamic State militants who have been besieging the area since March 2014. The tomb is located near an ISIS supply line that reaches out to the city of Raqqa, the "capital" of the self-proclaimed state.
The mission marks the first time Turkish troops have operated within Syria since the uprising began nearly four years ago. Syrian officials referred to it as a "flagrant aggression," warning that Turkey will now be "responsible for the results." Syria's contention is that Turkey should have asked for its permission before going in.
Turkish officials, unmoved by these assertions, say the mission was "extremely successful." All 38 soldiers were brought home safely (though some Turkish media is reporting that one solider died in an accident). The remains of Suleyman Shah have now been relocated to a new site in Syria closer to the Turkish border. Before departing, Turkish troops destroyed the mausoleum to prevent it from falling it into the hands of ISIS forces. Turkish officials say the body will be returned to its previous location if and when conditions allow. In the meantime, the remains will be relocated to a temporary tomb near Esme, a Kurdish village in Kobani (which was only liberated 10 days ago).
Turkey's prime minister Ahmet Davutoğlu was quoted as saying, "Countries which do not look after their historic symbols cannot build their future."
Turkish foreign minister Mevlüt Çavuşoğlu defended the operation, saying, "Turkey did not abandon Turkish soil. On the contrary, we gained new territory right across the border."
The operation was a joint operation between the Turkish military and Syrian Kurdish YPG militias, which is actually a huge deal. It could mark the beginning of a reconciliation process between the two groups.
[ The Economist | The Guardian ]
Top image: Anadolu Agency/Getty Images.