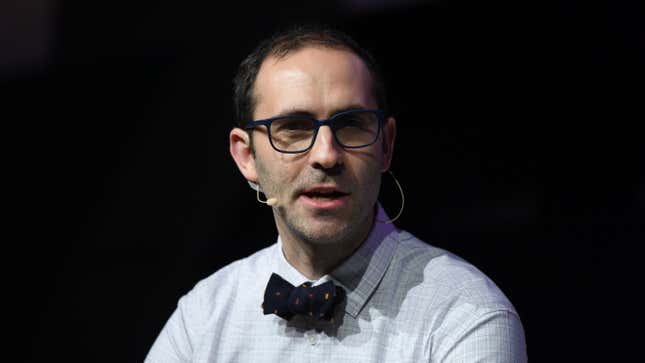 Twitch, the livestreaming platform that's brought us infinity steamed hams and an avenue for gaming creators to more easily monetize their video work, is going through a transition. The Amazon-owned company's CEO and co-founder, Emmett Shear, is resigning after 16 years spent leading Twitch into what it is today.

How Does Gerard Pique's New Twitch Indoor Soccer League Work?
In a statement posted to the company blog, and re-posted on Shear's Twitter account, the chief executive shared a lengthy goodbye and implied that he was resigning in order to spend more time with family. "I'm now a father and ready to move to my next phase of life," Shear tweeted.
"With my first child just born, I've been reflecting on my future with Twitch," he added in the full statement. "Twitch often feels to me like a child I've been raising as well. And while I will always want to be there if Twitch needs me, at 16 years old it feels to me that Twitch is ready to move out of the house and venture along." Note: 16 year old humans, not companies, are still legally considered minors in need of care.

In his stead, Shear announced that current Twitch president, Dan Clancy, will be taking over as CEO. Though the company co-founder isn't abandoning Twitch entirely. Shear noted that he will stay on "in an advisory role." Clancy has been with the company since 2019, and was originally hired as its "executive [vice president] of creator and community experience," per Variety.

Shear has been at his company since before it was "Twitch." He was part of a founding trio that put together Justin.tv—the precursor platform to Twitch where Justin Kan once streamed his life all day, every day. In 2011, Justin.tv became Twitch. And in 2014 Amazon bought Twitch for nearly $1 billion, snatching it out from under Google's nose.
Over the years, Twitch has become one of the largest livestreaming platforms on the internet—rivaling YouTube Live, and becoming particularly popular among gamers.
However, the company has faced some controversy and turmoil in its time. Twitch made changes to its creator revenue model in September 2022 that reduced creator profits while boosting its own by instituting caps on its top creators' earnings—many platform users and creators were angered by the shift. Fun fact: the letter announcing that change was "signed" by the incoming CEO Clancy, as first pointed out by the Verge.

Twitch has also faced criticism over issues like its inadvertent hosting of potential sexual predators and the proliferation of gambling on its site. Plus, in much smaller news, a streamer broke her back after jumping into a foam pit at the company-hosted TwitchCon.
Regardless, Shear said he's confident he's leaving his company in good hands. "I've never had more confidence in Twitch's leadership, in all our people, and in our product, than I do today."