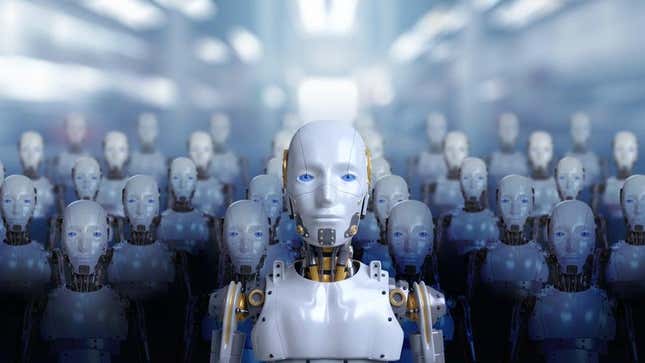 Twitter, the platform formally known as X, has a bot problem. If you want to see just how bad it is, I'll teach you the magic words that summon the machines.

Threads Needs These Five Missing Features to Be a Twitter Killer
For the past year, Don Marti has been tweeting requests for help with "MetaMask support." MetaMask is one of the more popular wallet services for people to store their cryptocurrency and NFTs. Its users are the subject of widespread and relentless scamming attempts. Fortunately, there are countless robots patrolling Twitter promising to help. Marti, an executive at an ad tech company, tweets about it every couple of weeks. Without fail, dozens of scam bots always come calling. Some even pretend to be beautiful women, and lately, the robots have even started getting poetic in their responses.

"Wise people walk the road that leads upward to life, not the road that leads downward to death," one bot told Marti this morning. "I was struggling with the same issues but I was told to file a report to their instant support email," the robot said, before directing him to a scammer's address.
I just tried asking my 2,100 followers for MetaMask support myself. Seconds later, a robot impersonating Martin Luther King Jr.—seriously—showed up in the comments. "This is a related problem with mine earlier today," the robot said. Dr. King gave a thinly disguised Gmail that will "rectify and help you out." Eight of his little bot buddies echoed the same sentiment within minutes with varying details written in broken English. I wrote to the email the bots recommended and got a response asking for my wallet address, complete with a fake ticket number for my support request. I asked if they were trying to scam me, but they said no.


"The new [Twitter] management is letting people get away with running really basic bots," Marti said, referencing certain billionaires who bought social networks last year. "If the new management here would just put some effort into moderating the low-effort bots, then the bot writers would have to level up in skill. Make them at least hook up a bot to a large language model or something and have it argue with my tweets, then this place might start to get hopping again."
MetaMask support, specifically, isn't the only light that attacks these robot moths. You often see them show up on any tweets asking for crypto help, or even discussing crypto currency in general. The problem is omnipresent and easy to spot, if you care to look for it. After an entire year, the crypto scam robot problem appears to have only gotten worse. ConsenSys Software, owner of MetaMask, did not immediately respond to a request for comment.
The strange thing is X/Twitter clearly has a system that recognizes this inauthentic behavior. Some of the tweets are automatically hidden beneath a button that says "Show additional replies, including those that may contain offensive content." This would protect other people looking for MetaMask support that stumbled across my tweet, but it wouldn't protect me if I actually needed help, because the replies showed up in my notifications.

Presumably, that means X could just go ahead and delete these inauthentic accounts. Why the company doesn't is anybody's guess because Elon Musk's companies have a general policy of ignoring questions from reporters. X did not immediately respond to a request for comment.

Musk tweeted about the problem over the weekend, in fact, claiming "We shut down a lot of bots this week." Apparently, they didn't shut down enough. Just this morning, Musk tweeted that "90% of my comments are bots." If only there was someone with the power to address this.
It's easy to be glib about such an obvious, glaring problem, but the issue is no joke. 46,000 people reported more than a billion dollars in losses due to cryptocurrency scams, and that's just between 2021 and 2022, according to the Federal Trade Commission. The scams continue to skyrocket even after recent crashes in the crypto market. This month, the FBI warned about a spike of scammers who claim they can recover crypto currency that you've already lost in other crypto scams.

Musk knows his company has a bot problem. In fact, he tried to use the issue as an excuse to try and worm his way out of buying Twitter after publicly committing to the deal, but to no avail.