It's about damn time. After an endless, occasionally entertaining—but mostly disconcerting—string of high-profile hacks, Twitter has finally introduced two-factor authentication to verify that yes, it is, in fact, you logging in.
Of course, you'll have to opt in for the new, long overdue security measure to be put into place. And once you do, you'll be required to enter a six-digit code every single time you log into Twitter—a slight nuisance, maybe, but a very necessary addition to a service as prominent and as (previously) easy to crack as Twitter.
How to Enable 2-Factor
Should you choose to enroll (and you should, seriously... now), direct yourself on over to your account settings page.
Next, select the option to "Require a verification code when I sign in," which will require a confirmed email address and phone number.
If your phone number isn't already confirmed, Twitter will send your phone a text for verification. Enter the code it gives you to verify your phone, and you're all ready to go.
All of your many existing Twitter apps should continue to work even after you've enable two-factor. But if you want to login to your account on new apps or devices, you'll need to go to your applications page to generate a temporary, single-serving password for that specific login.
G/O Media may get a commission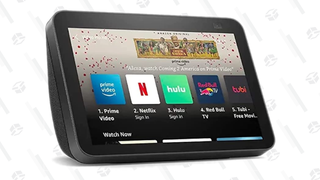 The service is currently rolling out, so if you don't have it yet, you should soon. This is an absurdly easy way to protect yourself from an attack. So even if you don't think you might be a target, there's absolutely no reason not to. Because at long last, we're finally on our way to a safer Twitter Tomorrow. [Twitter]