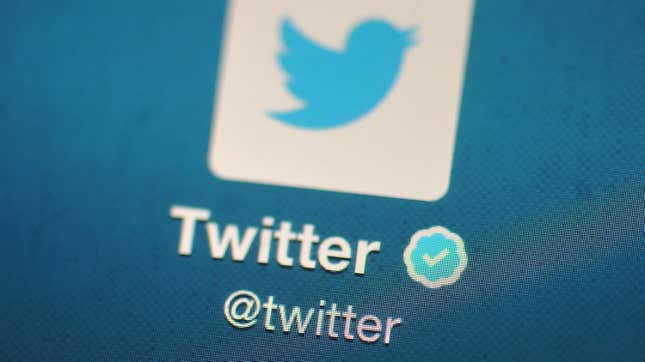 Well, that was fun while it lasted. Just a little over a week after reviving its public verification process for the first time in almost four years, Twitter has already pulled the plug.
Even Twitter Can't Kill Twitter | Letter From the Editor
On Friday, the company announced that it won't be accepting any more requests for that coveted blue checkmark until it's tackled the backlog of applications that's already piled up. Twitter didn't name a date for when the process might resume, but it did "pinky swear" that it'll happen eventually. And everyone knows you can't break a pinky swear. That's practically against the law.
"We're rolling in verification requests. So we gotta hit pause on accepting any more for now while we review the ones that have been submitted," the official Twitter Verified account tweeted Friday.

Before relaunching the process on May 20, Twitter hadn't allowed users to apply for a blue checkmark since the early days of the Trump administration. Twitter suspended public verification indefinitely after it was put on blast for verifying a white supremacist who organized the neo-Nazi rally in Charlottesville, Virginia, in 2017.
It later reopened the process for companies, brands, news organizations, activists, and organizers so long as they met certain criteria and could provide proof of their identities. But all other checkless plebs were out of luck until last week. And now it seems they're out of luck again.
When reached for comment on Friday, a Twitter spokesperson advised users to check out the Twitter Verified account for the latest updates on when it'll resume accepting applications. They also pointed us to the following tweet from Twitter's product lead on verification B Byrne:
"[P]ausing like this was definitely part of our plan! (though we weren't sure whether it would happen in a day or a week) we'll keep rolling out as fast as we can, but we want to make sure we have enough time for each review."
Updated: 5/28/2021, 8:33 p.m. ET: Added Twitter's response.