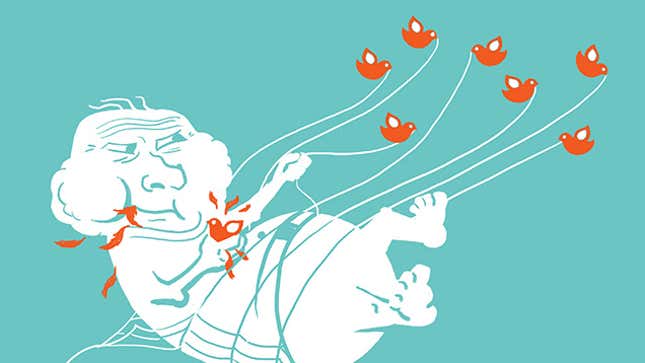 Twitter has a well-documented troll problem. Even CEO Dick Costolo has admitted that the service sucks at weeding out abusive users. Well, Twitter is taking some solid proactive steps today: Doxxing is now explicitly banned, as is posting revenge porn.
Vizio's Latest TVs Go All Quantum
People who get caught posting other people's identifying information, intimate videos, and photos without their consent will have their accounts locked until they delete the offending posts. And repeat offenders will get suspended from Twitter. For the revenge porn, Twitter will take stuff down without a DMCA request as long as the person complaining verifies that it's them in the photos or videos.
Ramping up its penalties for this sort of abusive behavior is good, but unfortunately, these new rules are unlikely to stop persistent trolls. It will also be hard to enforce because there's no limit to how many Twitter accounts someone can make; if they get suspended on one, it'll take literally a minute to create a new one. And if Twitter tried to crack down further by doing something like limiting IP addresses, it could run into a whole new set of problems, since that would destroy the element of pseudonymity the site is known for (a feature treasured by political dissidents as well as trolls).
A bunch of other social web services are cracking down on revenge porn too; Reddit just changed its rules last month. It's great that these services are starting a more proactive campaign against bad actors, but it'll be a frustrating, whack-a-mole battle that'll require broader cultural changes to finally win.
[via Buzzfeed]
Illustration by Tara Jacoby
---
Contact the author at kate.knibbs@gizmodo.com.
Public PGP key
PGP fingerprint: FF8F 0D7A AB19 6D71 C967 9576 8C12 9478 EE07 10C