Amazon has an aggressive schedule for opening new distribution centers around the world. The company has opened over 50 new facilities since 2010 in an effort to make same-day delivery the norm rather than the exception. But are these facilities playing fast and loose with worker safety? The U.S. Department of Labor announced this week that it's investigating two deaths at Amazon fulfillment centers in the past 6 months.
The most recent death occurred on June 1, 2014 at an Amazon warehouse in Carlisle, Pennsylvania. Jody Rhoads died while operating a motorized pallet jack that toppled some shelves, crushing her. That death is still under investigation by the Department of Labor's Occupational Safety and Health Administration (OSHA).
Another death occurred this past December, when Ronald Smith was crushed in a conveyor system while sorting boxes at an Amazon warehouse in Avenel, New Jersey. Smith's death prompted an OSHA investigation that has cited five companies for "serious violations." Amazon itself was not cited because Smith was a temporary worker technically employed by a third-party contractor. The five companies each face a fine of just $6,000 for Ronald Smith's death.
"Temporary staffing agencies and host employers are jointly responsible for the safety and health of temporary employees. These employers must assess the work site to ensure that workers are adequately protected from potential hazards," said Patricia Jones, an OSHA spokesperson in a statement. "It is essential that employers protect all workers from job hazards — both temporary and permanent workers."
Amazon has come under increased scrutiny for the working conditions at its distribution facilities, many of which use third-party staffing contractors for both full time and temporary labor.
G/O Media may get a commission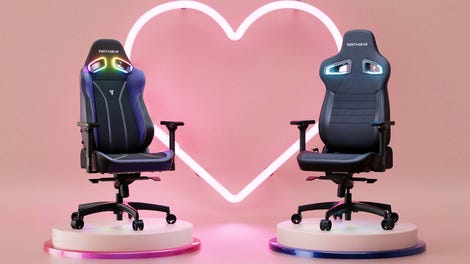 Up to $150 off
Vertagear Gaming Chairs
The question of who is responsible when something goes wrong has become a hot-button issue in the world of tech-based consumer goods and services. Companies like Uber and Amazon are able to throw up their hands and deny any culpability after they've created a kind of employment firewall by using third party staffing agencies, or in the case of Uber, claim their drivers are exclusively independent contractors.
All of these companies, including Google, are in a race to become your go-to vendor for goods and services delivered "like magic" as quickly as possible. Who's actually responsible when Amazon, Uber or Google-branded magic results in injury or death? That remains to be seen.
[Update: Many of the details surrounding the death of Jody Rhoads are still unclear, as it's an ongoing OSHA investigation, but some people in the comments are taking issue with the term pallet jack. "Motorized pallet jack" might be a more accurate description, for those familiar with the difference and the wording has been updated above. Other commenters would prefer I use the term "pinned" rather than "crushed." In any instance, Jody Rhoads died at an Amazon warehouse on June 1, 2014 and OSHA is investigating.]
---
Image: Amazon fulfillment center in Phoenix on December 2, 2013 via the Associated Press