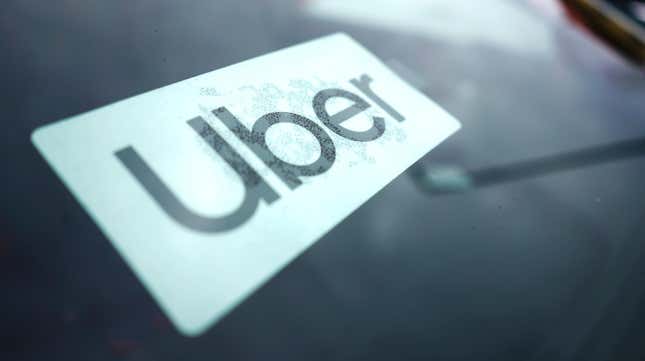 Uber announced on Wednesday that it is introducing an array of features including another option for riders who aren't able to hail a car from the app. The new service will allow riders to call 1-833-USE-UBER to order a car to come pick them up, rather than rely on the app alone.
"We all know that not everyone is comfortable using a phone or an app to call an Uber, like my mother-in-law," CEO Dara Khosrowshahi said at the company's annual Go-Get product showcase. "What could be easier for her?"
Uber tested the feature in Arizona in February 2020, telling passengers they could call the phone number to order a ride and would be verbally given a quoted price. They would then receive a text message containing the driver's details, approximate arrival time, and a receipt.
Although Uber came on the scene with the notion that calling a cab was no longer necessary, the company said in 2020 that it had decided to work on a calling option for those who don't have smartphones. A Pew Research poll conducted in 2021 found that roughly 31% of Americans 50 years and older had a cellphone but not a smartphone, and by allowing riders to call in, Uber hoped to alleviate that issue.
Speaking about the phone call option, Uber told CNN at the time, "It was designed with older adults in mind, though our hope is anyone preferring conversational support will benefit from this pilot." The company added, "We built it based on feedback from older adults who told us the live conversations and simplicity of experience can make a difference for their transportation needs."
Among the new ride-hail features that were announced, Uber is also adding the option to order cars that have a car seat and will allow parents to add teenagers onto family accounts which "helps parents and caretakers move teens safely under their supervision," according to a press release. The teen add-on will be made available starting May 22.
Uber's new features come less than a week after Lyft introduced its new features aimed at streamlining transportation for travelers. Uber and Lyft continue to battle it out to claim the top spot in transportation with new features, add-ons, and competitive prices, but while Lyft faces layoffs and massive dips in market shares, Uber's first-quarter results showed its shares are up by about 51% from last year while Lyft's shares are down roughly 25%.
Khosrowshahi said in a statement to CNBC earlier this month that Uber is off to a "strong start," adding the results will pave the way for more advanced features, including utilizing data for artificial intelligence. "We are still in the early stages of using large data models to power improved user experiences and efficiencies across our platform," he said, adding, "With much more to come."