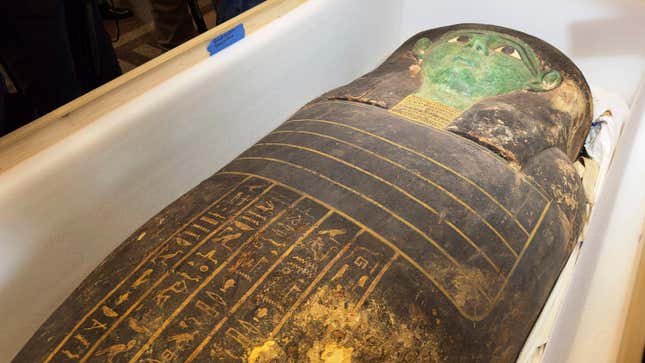 A 2,500-year-old sarcophagus illegally removed from Egypt was repatriated to the country in a ceremony held yesterday in Cairo.
Egypt Wants Its Rosetta Stone Back From the British Museum
The wooden sarcophagus arrived in the United States in 2008 and was housed in Houston's Museum of Natural Science. It was smuggled to the United States through Germany, according to Alvin Bragg, the Manhattan District Attorney.
The District Attorney's office found that the sarcophagus came from a necropolis north of Cairo, the Associated Press reported.
Antiquities theft has long been a problem for Egypt, and the Egyptian government is working to retrieve the thousands of artifacts that have been illegally taken from the country in recent decades. Egyptian archaeologists are also working to recover artifacts taken from the country farther back in time, like its Rosetta Stone, which has been on display in the British Museum since 1802.
Sarcophagi are box-like containers for the dead. They were used in Ancient Egypt and were often decorated with intricate painting and inscriptions. Sarcophagi built for the rich or powerful, like that of the pharaoh Tutankhamun, are famously luxurious.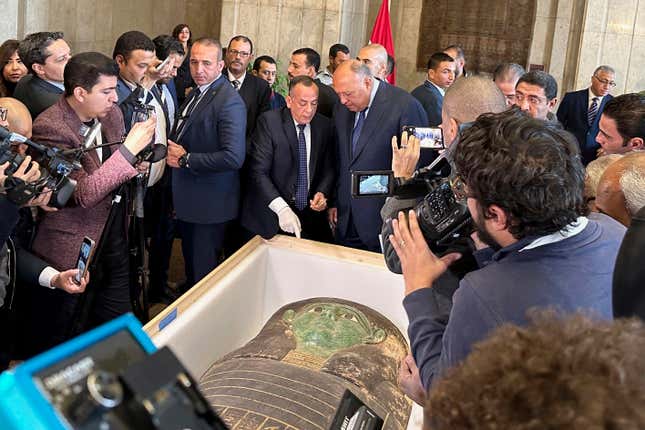 The newly repatriated sarcophagus is nearly 9.5 feet long. Hieroglyphics, the Ancient Egyptian script, are inscribed on the sarcophagus' body, and a large green face is painted on the head of the coffin.
Mostafa Waziri, a member of Egypt's Supreme Council of Antiquities, said in yesterday's ceremony that the repatriated sarcophagus dates to the Late Dynastic Period—meaning the coffin is about 2,500 years old, give or take a century.
"This stunning coffin was trafficked by a well-organized network that has looted countless antiquities from the region," Bragg said, according to the AP. "We are pleased that this object will be returned to Egypt, where it rightfully belongs."
Bragg added that the same network smuggled a coffin that ended up in New York's Metropolitan Museum of Art; that item was repatriated to Egypt in 2019.
According to the AP, Cairo officials managed to bring 5,300 stolen artifacts back to Egypt from around the world in 2021.
More: Egypt Wants Its Rosetta Stone Back From the British Museum