All across the country, thousands of cosplayers are rushing to put the final touches on their new, or classic, costumes, for Comic Con 2010. So here's a few tips to make your costume as cutting-edge as possible.
The Devil's In The Details
No self respecting cosplayer would leave the house without the proper pair of giant scissors, lightsaber, robe, cape or tights — so pay attention to the details. What makes a great costume even better? Going the extra mile, like the blue-eyed wonder boy here.
[Supes image and Sandman image via Costume Checklist]
Even If Everyone Hated It Don't Be Afraid To Rock It
G/O Media may get a commission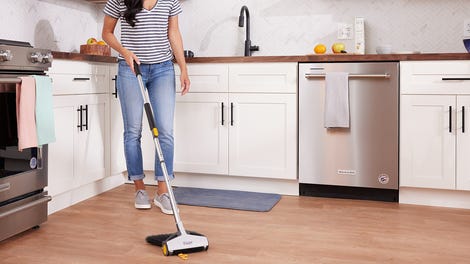 BOGO 50% Off
Flippr - BOGO 50% Off
You may be the only one wearing that costume, but you certainly won't have to worry about any copy cats. And people will love you for it. Plus, so what if you march to the beat of a different drummer? It's Comic Con after all. Embrace your love for the unloved.
IcyBrian" />
The Bigger The Better
The more the merrier. The more friends you convince to slip on a unitard and join your cosplay gang, the more accurate/awesome your group will appear to be.
Get Creative
Sorry friends — a store-bought costume just won't hack it anymore. Dig deep into your mind and pull out a new spin on a classic character, or find a new way to present your subject. Running out of ideas try vintage. But if the research seems too daunting, go in the other direction. Go modern. Run with the most recent reincarnation of your heroes. We'd kill to see some present-day Teen Titans running around.
Involve The Whole Family
Normally I say "thanks but no thanks" to kids at comic con. But not when they are dressed like these adorable babies. Should you chose to bring the wee-ones, dress them appropriately like Moogles, aliens, and murderers.
What We Want To See This Year
Scott Pilgrim


This is Scott Pilgrim's year. Already we've seen some pretty quality SP cosplay, but we'd love to see a sea of blue haired ladies hammering it out. Plus it's not terribly difficult to dress up as these characters. Throw on a blue wig and grab a hammer. It's all about layering with these kids.
Ultimate Captain America, Vintage Green Lantern And Full Avengers Teams


There is no doubt there will be plenty of Green Lanterns and random Avengers running around — but we want to see something different. What about an Ultimate Captain America, all ripped up and ready for actual war? Or droves of vintage popped-collared Green Lanterns, and a fully formed team of Avengers? I can't even find a picture of the shredded Ultimate version of Captain America!
Doctor Who, Matt Smith Style
Amy Pond and the new Doctor are a fresh new look on a classic cosplay idea. The Doctor is pretty simple: tweed jacket, floppy hair, suit pants and shirt, sonic screw driver and a bow tie... because bow ties are cool. Amy has a lot of different looks that should be cheap and easy to imitate. Come in your PJs with a bathrobe, in short shorts with tights and black Converse, or finally, as a police kiss-o-gram. And if you have a third member of your group, it would be pretty grand to see Rory tagging along, with his dorky "Rory and Amy" T-shirt.
Upgraded Vampires
Instead of Twilight vamps, bring us sexy vampires — bring us MANGA and BLOOD! Alucard knows what we're talking about. A few other great vampire cosplay ideas are Severen from Near Dark, a pointy-toothed black-eyed 30 Days of Night baddie, Pam and Eric or Hoyt and Jessica [great for team cosplayers]. And on the flip why not wear the white suits of Rev. Steve Newlin and his wife Sara and preach at all the other vampire dressed folks?
Human Centipede
Don't know how, don't care. Just make it happen, people.
What We Don't Want To See
Half Naked Na'vis
Unless it is SPECIFICALLY this group: L.A.R.P. Live Avatar Role Playing:
Watchmen
Personally, it's still too raw. and there were so many Rorschachs last year I think it's time we called a moratorium on the Watchmen characters, at least for a little while.