I have this vision of waking up in the morning, and pressing a button that plays music everywhere in my house. Sonos was the original pioneer that built a speaker system to get this multiroom job done, and it remains the best option for a number of reasons: The $200 starting price point is reasonable, the system sounds phenomenal, and most importantly, it's reliable and easy to use. Copycat products from Denon, Polk, Samsung, and other manufacturers have never made a compelling case for themselves in the face of Sonos' success. Now, flashy headphone maker UrbanEars is the latest brand to leap into the mix with a multiroom system of its own, and since I'm a big fan if the company's products, I had to give it a chance.

You might think I'm crazy—my coworkers think so—for wanting to try out a cheap lifestyle brand's new speakers. Yes, UrbanEars isn't exactly known for making the best gear. It's essentially a budget brand that undercuts premium audio products and uses loud design to stand out from competitors. But I've owned the same pair of tomato-colored UrbanEars Kransen earbuds for the last three years, and I absolutely love them. At $40, they're super affordable, durable, and I think the weird color looks cool. I'd recommend those earbuds to anyone looking for an alternative to Apple's overpriced EarPods. I figured the new UrbanEars multiroom speakers would be something similar: A low-cost alternative to the popular Sonos product. It turns out the UrbanEars wireless speakers are something else entirely.
UrbanEars launched its multiroom setup with two versions of its new connected speakers: the smaller Stammen ($350) and larger Baggen ($450), whose prices are roughly comparable to the Play:3 ($300) and Play:5 ($500) Sonos speakers. There's no low-cost entry point here.
G/O Media may get a commission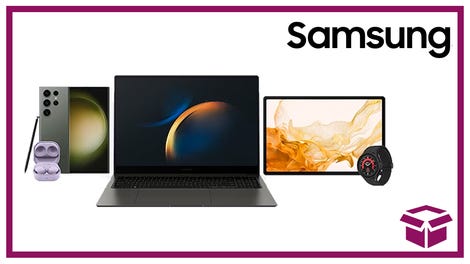 24 hour deals
Discover Samsung - Daily Deal
The bigger Baggen speaker is housed in a large square casing. It's about the size of the subwoofer box that comes with a lot of cheap 5.1 surround sound setups, but it's equipped with two 2.5-inch full-range speakers and one 5.25-inch subwoofer that puts out a maximum 60 watts of audio power. It's big, and kind of difficult to hide out of sight. The perfectly square fabric casing isn't exactly beautiful either. Worse, it doesn't deliver he quality of sound I was expecting; For a huge hunk of gadget that costs $450, I hoped for a little more.
The smaller Stammen was more my speed. It's about the size of three short hardcover novels stacked together. It also comes equipped with two neodymium dome tweeters and a 4-inch subwoofer that collectively have a max audio output of 36 watts. Despite being about the size of a Sonos Play:3 speaker, the Stammen sounds much weaker. Still, it's enough power for most casual music listeners who don't need (or want) their whole house to shake when they're listening to a good bass line.
There are four different ways you can wirelessly connect to an UrbanEars multiroom speaker, plus an AUX port and USB port (for charging your phone) hidden on the bottom. Both the Baggen and Stammen come with Google Chromecast and Apple Airplay built in, and they also have Bluetooth built in—but the real kicker is its ability to connect to wi-fi and be controlled entirely from your phone. By comparison, Sonos only connects to devices via wi-fi. The Bluetooth connectivity in particular is a nice touch—it's a feature that Sonos has been criticized for leaving out of its products.
You set up the speakers with an app that, in theory, should be really easy to use. The instructions say once you download the app, you plug in your speaker, select it from within the app, confirm your preferred wi-fi network—and voila!—you're using your brand new stereo.
In reality, the UrbanEars app didn't work very well. Instead, it crashed almost every time I opened it. Even as I was writing this review, I was listening to some wonderful jazz music when I received an unexpected phone call. I paused the track and answered my phone—but the music continued to play.
Small, annoying glitches like this happen all of the time with the UrbanEars speakers. There was one not-so-hilarious incident when my speaker set became stuck on about 90 percent volume when I was first trying it out in the late evening. The app crashed, and every time I relaunched, it would crash again, while a really loud sax solo kept blaring across multiple rooms. Eventually, I had to run across my apartment and turn the speaker down manually using the much-appreciated volume knob. Any neighbors trying to get to bed were treated to a blaring awakening from the world's most annoying musical instrument.

Thank you UrbanEars for these two knobs. My original intention was to avoid using the physical knobs at all costs—because what the hell is the purpose of having multiroom speakers if you can't control them with your phone? But because the app is so terrible, I found myself constantly reaching for the knobs—and kind of defeating the purpose of futuristic wireless speakers.
Although, not even the physical controls worked as advertised. The top knob controls volume, and when you push it, the system ostensibly toggles between playing as an individual speaker to playing as part of a multiroom setup. But it took me about 45 minutes to get my setup working right, and when I tried to disconnect the speakers to use each one briefly as an individual speaker rather than as part of a multiroom setup, it caused me a huge headache when I went back to pair them again. Instead of finding myself with something convenient, I found myself using a wireless speaker system that was a study in tediousness.
The bottom knob wasn't as handy as it should have been either. It controls seven different presets that can be set to any album, playlist, or radio station on Spotify. It can also be set to different old school FM radio channels. I've developed a predictable listening routine of jazz in the morning and house music at night, and programming that routine into the speaker had me excited. Sadly, the presets are difficult to set because they require the company's awful app. The buttons on the speaker don't always work when you push them either.
The biggest issue I've had with the UrbanEars connected speakers is their response time for almost every command. Everything I tried to do with these speakers became a process, especially with the app crashing seemingly every time I launched it. Even basic commands like changing the volume or skipping a song was followed by a two- or three-second delay. The biggest lesson I learned here is that a connected speaker is only as good as its interface, and UrbanEars blows it. It speakers are more complicated and don't sound nearly as good as the competition. Just go get a Sonos.
README