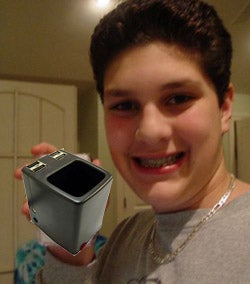 Consider this. You're short on USB ports. You also need a place to put your pens. Sound familiar? Sure, we've all been in this situation.
Hi, I'm Rick Brawn, founder of USB Pen Holders International. Here at USB PHI, we know it's hard finding enough ports to plug in your USB gadgets. And we also know that you've only got two ears to stick pens behind.
With three easy payments of £3.32 ($6.50), you can be the proud owner of your own USB pen holder. As you can see, I'm not only the president. I'm also a douchebag.
Product page [Phatphones via Gearlog]