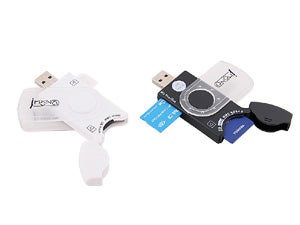 Not only can this transfer all your pictures off your digital camera onto your computer, you can use it to read your SIM card and back up your phone contacts as well. The card reader also comes with a free copy SIM Editor 3.0, software that lets you manage your contacts on your PC.
As for regular card support, there's:
mini SD Card, Micro SD (T-Flash), Secure Digital Card
MMC Card 4.0, MultiMedia Card, MultiMedia Card Plus
RS-MMC (MMC Mobile), RS-MMC4.0 (MMC Mobile 4.0)
MMC micro
MS / MS Duo / MS PRO Duo
Mobile SIM Card
Available now for $19.
Product Page [USB Geek]