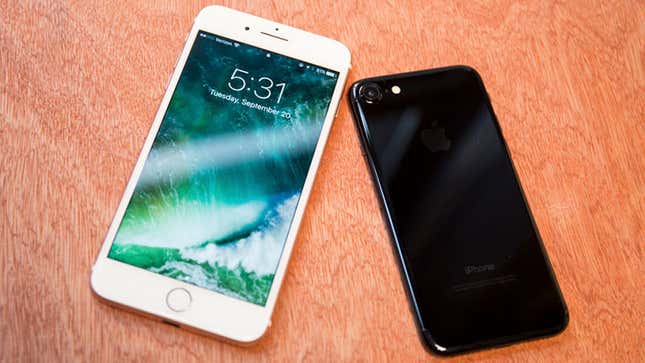 The hardware inside of the Verizon iPhone 7 is supposed to sport download speeds that are far better than those on an AT&T iPhone 7. But according to a new report, the Verizon iPhones aren't as fast as they should be.
The Boogeyman's Sophie Thatcher Reveals What Draws Her to Dark Characters | io9 Interview
Twin Prime Inc. and Cellular Insights spoke to Bloomberg about the newly discovered discrepancy between the Verizon iPhones' specs and their performance. The research groups said that it's unclear why the Verizon/Sprint/SIM unlocked iPhone isn't performing to its capabilities. While the Verizon devices still perform slightly better than the AT&T devices, there's still something slowing them down.
For the iPhone 7, Apple decided to source its modems from two different vendors. AT&T, T-Mobile, and phones locked to mobile networks in most of Europe use Intel modems. Sprint, Verizon, and SIM unlocked phones have modems form Qualcomm. As a previous Cellular Insights note attested, the Qualcomm X12 modem is far more capable than the Intel modem, meaning that users should be getting the fastest-possible download speeds.
But according to the new research, it's not. Bloomberg reports:
In field tests by Twin Prime, the Verizon version is a little faster than its AT&T stablemate — but not as fast as it could be. The firm proved this by doing the same tests on the Samsung Galaxy S7, which also runs on Verizon's network and uses the Qualcomm X12. The S7 was about twice as fast as the iPhone 7 running on the same network with the same modem chip, Twin Prime found. This was based on data from more than 100,000 phones downloading an image in large U.S. cities.
You can see from this graph just how much faster the S7, which has the same modem, is from the iPhone 7.
Again, the reason for the discrepancy isn't clear, but Twin Prime's Gabriel Tavridis said he doesn't think Apple is throttling the network. Instead, the Verizon modem might not have all of its features enabled. In a statement to Bloomberg, Apple said:
Every iPhone 7 and iPhone 7 Plus meets or exceeds all of Apple's wireless performance standards, quality metrics, and reliability testing. In all of our rigorous lab tests based on wireless industry standards, in thousands of hours of real-world field testing, and in extensive carrier partner testing, the data shows there is no discernible difference in the wireless performance of any of the models.
And this is all well and good, but we're sure some customers will be curious about to why their phones aren't able take advantage of all of their theoretical capabilities. So it seems odd that Apple could choose to restrain one of its device's features.
Inevitably, it's interesting that Apple has chosen to put two different modems in the same model of iPhone. The faster Qualcomm modem will also work with the exact same radios as the slower Intel variant. Why not just use the premium component in all phones?
Apple will always be mystery box of decision-making. Regardless, the Verizon devices will be slower than they should be, against all odds and reason.