Have you seen this photo of Andrew McCabe allegedly being escorted out of the FBI building by security? It's become a popular meme for Trump supporters on social media after McCabe announced this week that he was stepping down as Deputy Director of the FBI. But the image isn't quite what it seems. The photo is actually from December of last year.

The photo was taken on December 21, 2017, as you can see from the info provided at Getty Images. But that hasn't stopped people on Facebook and Twitter from sharing the image as proof that McCabe had to do a "perp walk" out of the FBI this week.
McCabe was expected to retire this spring, but announced earlier this week that he'd be stepping down early. McCabe's former boss, James Comey, was fired back in May because President Trump didn't like that Comey was investigating Trump's ties to Russia. And Trump has considered McCabe a loyalist to Comey. President Trump even reportedly ridiculed McCabe by calling him a "loser" in a phone call shortly after Comey was fired.
But that hasn't stopped Trump supporters—who commonly refer to themselves online as "deplorables" with screen names like Deplorable Susie—from claiming that McCabe the photo shows him being removed for some imagined wrongdoing.
G/O Media may get a commission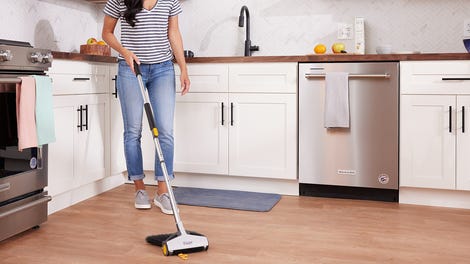 BOGO 50% Off
Flippr - BOGO 50% Off
What's actually happening in the photo? The cops pictured are there for McCabe's protection, not because he's doing a perp walk. McCabe was heading to testify in front of a Congressional Committee.
The Getty Images description for the image says it all:
WASHINGTON, DC - DECEMBER 21: Federal Bureau of Investigation Deputy Director Andrew McCabe (C) is escorted by U.S. Capitol Police before a meeting with members of the Oversight and Government Reform and Judiciary committees in the Rayburn House Office Building December 21, 2017 in Washington, DC. McCabe testified before the House Intelligence Committee for ten hours on Tuesday. (Photo by Chip Somodevilla/Getty Images)
MCabe's testimony included the fact that former FBI Director Comey told McCabe about how President Trump had asked for a loyalty oath before he was fired. Despite President Trump's clear attempt to obstruct justice, Republicans are angry at McCabe because they believe he mishandled the Clinton email investigation.
The photo is even being shared by people from "respectable" conservative news outlets like Newsmax. Well, as respectable as any outlet that's trying to revive Bill O'Reilly's career can be, I guess.
James Hirsen, the author of such columns as "Trump's Tweets Keep Us Safe" and "Mueller, Rosenstein Must Withdraw From Russia Probe," tweeted out this image just this morning as evidence that McCabe did something wrong.
Other versions of the photo have also started doing the rounds, but they're from the exact same day back in December of 2017. As you might expect, the tweets still include plenty of hashtags like #RedPill, #DeepState, and #HillaryForPrison.

So there you have it. The photo is fake news, as some might say. But if you expect people like James Hirsen to make a correction, don't hold your breath. This is a guy who spent most of December defending the pedophile Roy Moore. Remember him?