Virgin Galactic's SpaceShipTwo experienced an "in-flight anomaly" shortly after takeoff this morning. The suborbital space plane was conducting its first rocket- powered test-flight since January. California Highway Patrol now reports one fatality and one major injury following the accident.
As of this posting, the names of the pilots have not been released. At a press conference held this afternoon, Kevin Mickey, president of Virgin Galactic partner Scale Composites, said the injured pilot is doing "as well as can be expected." Mickey also confirmed that both pilots were employed by his company, not Virgin Galactic.

This morning's test flight was reportedly the first to rely on a new, plastic-based fuel mixture (previous fuel mixtures have been rubber-based), "in hopes that the new formulation would boost the hybrid rocket engine's performance."
SpaceShipTwo's most recent test flight was an unpowered gliding flight, and took place October 7th. Its last rocket-powered test flight was conducted on January 10th of this year. Today's was to be SpaceShipTwo's fourth rocket-powered outing.
G/O Media may get a commission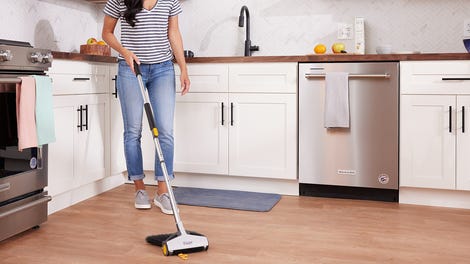 BOGO 50% Off
Flippr - BOGO 50% Off
Information is still trickling in, but this is clearly a major setback for Virgin Galactic. While the company reported last year that it was on track to launch its first commercial flights in 2014, the company revised that estimate last month, stating that it would hold off on its first public flights until early 2015.
"From now until March there will be many test flights," Virgin CEO Richard Branson said September 9th, in an interview on CBS's "The Late Show." He said he planned to be on SpaceShipTwo's first commercial flight, in "February or March of next year."
The Anomaly
Reports of the anomaly first appeared at 10:13 a.m., when the Virgin Galactic released the following statement on Twitter:
SpaceShipTwo is an air-deployed space plane that is carried to launch altitude by Virgin Galactic's larger, WhiteKnightTwo mothership. This morning's test flight was cleared for takeoff from t he Mojave Air and Space Port in California at 9:19 a.m. PT.
At 10:07 a.m. PT, Virgin Galactic tweeted that SpaceShipTwo had been released from WhiteKnightTwo and ignited its rockets:
Minutes later, the in-flight anomaly was reported. Witness reportedly saw SpaceShipTwo exploded mid-flight following rocket ignition, after which it crashed into the desert. According to continued updates from Virgin Galactic, the anomaly has resulted "in the loss of SpaceShipTwo."
The Crash
Footage of the wreckage has been rolling in steadily all morning:
Unconfirmed reports from local media state that two parachutes were seen in the air immediately following the anomaly (test flights of SpaceShipTwo are conducted by two pilots). Additional reports, also unconfirmed, claim one pilot has died. Virgin Galactic says the status of the pilots remains unknown (UPDATE: At 11:50 a.m. PT, the Associated Press reported the California Highway Patrol has reported one fatality and one injury – see below for more details):

The director of the Mojave Air and Space port has confirmed the crash, and will conduct a press conference at 2p.m. PT.
At 11:37 a.m. PT, a local ABC News station reported a rescue crew had been spotted transporting a person into a helivac on a stretcher:
The Associated Press says California Highway Patrol has reported "one fatality" and "one major injury":
Virgin Galactic has provided the following statement:
Virgin Galactic's partner Scaled Composites conducted a powered test flight of SpaceShipTwo earlier today. During the test, the vehicle suffered a serious anomaly resulting in the loss of the vehicle. Our first concern is the status of the pilots, which is unknown at this time. We will work closely with the relevant authorities to determine the cause of the accident and provide updates as soon as we are able to do so.

Richard Branson says he is en route to Mojave "to be with the team":
NBC will broadcast a live stream of the 2pmPT/5pmET press conference about today's crash. Watch it live here:
The Response
Was today's crash the result of hubris, or are tragedies like today's the unavoidable price our species pays for daring mighty things?
Prior to this afternoon's press conference, former Washington Post reporter Joel Glenn Brenner leveled strong accusations against Virgin Galactic in an interview with CNN. In the clip below, an audibly shaken Brenner claims the company's technology did not match its enthusiasm, and that this makes Virgin Galactic complicit in the death of one of its pilots [Update: According to this afternoon's press conference, both of the pilots were employed by Scaled Composite, not Virgin Galactic]:
The enthusiasm that has been shown outwardly by Virgin Galactic and by Sir Richard certainly does not match at all with the technology behind the scenes… there's a big gap there, and has been for quite some time… It's a real problem.

I will tell you this as well: That this engine, that exploded today, even if they had had a successful flight, and even if they had not stolen my friend's life, they would not have ever gotten anywhere near space with this engine. So I am here to say that they took this pilot's life, and this engine still would not have gotten customers to space. and I want people to know that now. And I am sure Virgin Galactic is going to be very unhappy with me for telling the truth but it is time the truth be told.
While Brenner's accusation that SpaceShipTwo "would not have gotten customers to space" is technically correct, it is not revelatory. Space is defined as the point at which the Earth's atmosphere ends and the vacuum of space begins. The precise location of this boundary is not agreed upon. NASA puts it at roughly 50 miles, or 81 kilometers, above sea level. Meanwhile, the World Air Sports Federation places the boundary at 100km above sea level. In January of this year, in its highest-altitude test-flight ever, SpaceShipTwo reached an altitude of 71,000 feet – lofty by everyday aircraft standards, but still roughly 60 kilometers shy of NASA's 80 kilometer cutoff.
To put things in perspective, when Google Executive Alan Eustace broke Felix Baumgartner's world record for the highest-altitude skydive earlier this month, he fell from an altitude of 135,000 feet. That's about 41.5 kilometers above sea level – nearly twice the height of SpaceShipTwo's highest flight ever, and still nowhere near "the beginning of space."
In other words: SpaceShipTwo was not anywhere close to being a "space" ship, as such. Doug Messier, managing editor of space news website Parabolic Arc, speculated over the craft's actual capabilities back in May:
So, just how high can this first version of SpaceShipTwo go? Virgin now says the spacecraft will be able to exceed 50 miles. Other sources I know are far less confident it will be able to reach that high.

The reason is simple: the Sierra Nevada Corporation hybrid rubber-nitrous oxide engine they are using performs very poorly. The vibrations and oscillations in the version they used for the first three test flights would have torn the ship apart well if it had been fired for anywhere near full duration of about a minute.

So, remember how after the first powered flight in April 2013 when Virgin Group Founder Richard Branson declared that engineers had finally perfected the engine, and he promised to fly into space on Christmas Day dressed as Santa Claus? Utter bollocks. It had no relation to anything happening behind the scenes.

But, Virgin Galactic has a plan to fix it. Sources tell me engineers have modified SpaceShipTwo with additional tanks to hold helium that will be to dampen out the oscillations and vibrations. However, the additional weight will at least partially offset the extra engine performance. It also will reduce the number of passengers in the back from six to four, sources tell me.

Will the ship be able to reach 50 miles? In theory, yes. In practice…we'll have to wait for flight testing to resume sometime later this year to find out.
Given today's events, it appears we'll be waiting a lot longer than that.
"Space is hard, and today was a tough day," said Virgin Galactic CEO George Whitesides, at this afternoon's press conference. He continued:
We are going to be supporting the investigation as we figure out what happened today, and we're going to get through it. The future rests in many ways on hard days like this, but we believe we owe it to the folks who were flying these vehicles as well as the folks that were working so hard on them to understand this, and to move forward.
NASA scientist Carolyn Porco offered a similar assessment of the day's events:
"We're doing this for you and for your generation," said Stu Witt, CEO and General Manager of the Mojave Space Port, at this afternoon's presser. "Stay the course. This business is a worthy, good business. This business is not easy. If it was easy, it wouldn't be interesting to me or any of my colleagues standing here with me."
Another press conference is said to be scheduled for tomorrow, November 1. We'll keep you posted.