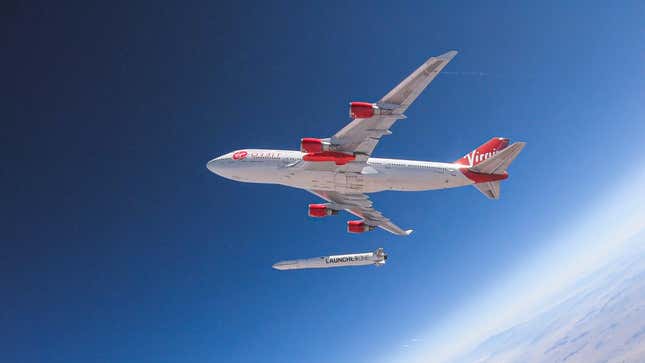 Richard Branson's private space venture Virgin Orbit is reportedly planning for insolvency in the event it's not able to secure new funding, according to Sky News.
Astronomers Could Soon Get Warnings When SpaceX Satellites Threaten Their View
The company is working with two restructuring firms, Alvarez & Marsal and Ducera, to develop a backup plan as it continues talks with potential investors to help Virgin Orbit restart its operations, Sky News reported on Sunday. This comes days after Virgin Orbit announced that it was halting all of its operations and furloughing the majority of its staff in an effort to cut cost.
Virgin Orbit sank into deep financial trouble following the company's failed U.K. launch this past January. The company's Start Me Up mission was meant to usher in a new era for Virgin Orbit, launching from British soil for the first time. It would have also marked a historic liftoff for the U.K., launching satellites to orbit from British soil for the first time.
Instead, a fuel filter became dislodged, overheating the engine and causing the LauncherOne rocket booster to crash back down to Earth. The rocket failure resulted in the loss of nine satellites on board, and triggered an ongoing investigation by authorities, both in the U.K. and the United States. 
The rocket failure caused concern among Virgin Orbit's investors, and the company's stock fell by 22% immediately after, CNBC reported at the time. Last week, the company paused its operations to try and figure out a plan on how to move forward.
Virgin Orbit has shown signs of financial struggle even before the latest rocket failure, with its investors pumping $55 million into the company since November of last year. Since it began operations in January 2021, Virgin Orbit has managed to pull off just five successful launches.
As investigations into its latest rocket failure continues, the satellite launch company will likely not be able to see its Cosmic Girl aircraft fly over British soil any time soon. Officials from the Civil Aviation Authority told members of the space industry that Britain is not expecting to host another launch in 2023, The Telegraph reported.
Virgin Orbit was originally hoping to launch Cosmic Girl with a new LauncherOne rocket just weeks after the incident, but that remains way too ambitious even months after the rocket failure.
For more spaceflight in your life, follow us on Twitter and bookmark Gizmodo's dedicated Spaceflight page.