Vizio's new batch of soundbars come in varying degrees of 2.0, 2.1 and 5.1 arrangements, with all of them supporting Dolby Digital surround sound. Also appealing is the army of wireless headphones, iPod docks and speakers offered up.
The VHT512 is Vizio's flagship 5.1 soundbar with fully wireless connections, including a 2.4 GHz wireless sub and two rear speakers that plug into the bassmaker. four 3" mids provide the primary sound for the sound bar, while each rear speaker has a 2" driver. There's also a wireless iPod dock that can be placed anywhere within a 60-foot radius of the speaker and still cleanly transmit audio. The VHT512 will be available in May for $400.
The VSB200 and -210ws Soundbars provide 2.0 and 2.1 sound with virtual Dolby surround and in the case of the 210ws, a wireless subwoofer. Like the 512, this bar is also powered by four 3" mid speakers. Both the VSB200 and VSB210ws will be available in January for $200 and $350, respectively.
Lastly there's the VHT200 and -212 soundbars, which are similar to the VSB line, except theyre only 32" wide (as opposed to 40") to accommodate smaller televisions. But not sacrificing much in the way of specs, these have the same speaker guts as its larger counterpart, and the VHT212 has a slightly smaller, wireless sub. The VHT200 and VHT212 will be available in April for $150 and $250, respectively.
G/O Media may get a commission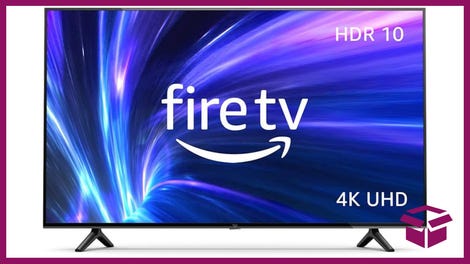 42% Off
Amazon Fire TV 50" 4K Smart TV
And lastly, there are the wireless headphones, which also come with the wireless iPod dock, allowing you to have sound piped into your ears anywhere in the house, without the hassle of wires. It has a five hour battery and charged via USB. Only problem? They're $300. [Vizio]