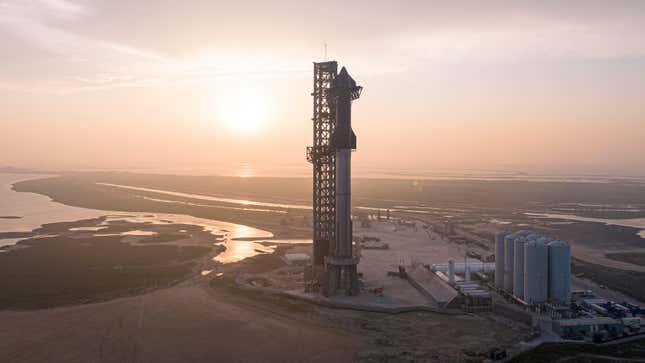 The stage is finally set for SpaceX to launch its much-anticipated Starship. The two-stage rocket may or may not reach orbit during its maiden voyage, but SpaceX says "excitement guaranteed."

Astronomers Could Soon Get Warnings When SpaceX Satellites Threaten Their View
Update: April 20, 12:25 p.m. ET: Starship successfully blasted off from the Boca Chica launch site on April 20 at 9:33 a.m. ET. The rocket flew for nearly four minutes before entering into a hopeless tumbling state, forcing SpaceX to destroy the rocket.
Update: April 17, 9:18 a.m. ET: Starship will not launch today due to a pressure issue detected in the Super Heavy booster. "A pressurant valve appears to be frozen," explained SpaceX CEO Elon Musk in a tweet. Grounds teams are now using the opportunity to complete a full launch rehearsal in preparation for a launch as early as Wednesday (ground teams require a minimum of 48 hours to perform a re-do). Encouragingly, the valve problem appears to have been the only issue spotted today.
Update: April 17, 8:19 a.m. ET: A slight delay has pushed today's launch to 9:20 a.m. ET. Weather continues to look good.
Original post:
All eyes are on Boca Chica, as SpaceX attempts the first integrated flight test of Starship. The 394-foot-tall (120 meters) rocket is expected to exert an unprecedented 16.5 million pounds of thrust at liftoff, making it the most powerful launch vehicle in human existence. SpaceX CEO Elon Musk has wanted a rocket like this since 2005, so this is a long time coming.
The Federal Aviation Administration issued the company a license to launch on Friday, setting the stage for Monday's test flight. On late Sunday evening, SpaceX issued a tweet, saying it's targeting 9:00 a.m. ET on Monday, April 17 for liftoff. CNN says the launch window will end at 10:30 a.m. ET. The company will broadcast the event live, with coverage starting at around 8:15 a.m. ET. You can watch the launch at SpaceX or at the live feed below.
The launch will also be made available through a number of third party live feeds, including NASASpaceflight, Lab Padre, and Everyday Astronaut, which you can access at the feeds below.
The fully integrated rocket is currently standing at the nearly 500-foot-tall (146 meters) launch tower located at the company's Starbase facility in Boca Chica, Texas. SpaceX is charting unknown waters with this rocket, despite previously running a wet dress rehearsal and static fire test of the booster's Raptor engines. On Sunday evening, SpaceX CEO Elon Musk said there's a "a good chance that it gets postponed since we're going to be pretty careful about this launch." Should Starship not fly on Monday, SpaceX will try again throughout the week.
The plan for the first orbital flight test is for the first stage Super Heavy to fall into the Gulf of Mexico and for the upper stage Starship spacecraft to splash down around 62 miles (100 km) northwest of Kauai, Hawaii. The upper stage won't complete a full orbit of Earth, with the mission lasting no longer than roughly 90 minutes.

Elon Musk's private space company is designing Starship to launch cargo and passengers to Earth orbit, the Moon, Mars, and possibly other celestial destinations. And as a government-funded endeavor, NASA is hoping to leverage Starship as a means to land astronauts on the Moon. And as a fully reusable rocket with so much power and payload capacity, Starship stands to severely disrupt the spaceflight industry. This rocket—without exaggeration—is a huge deal.
It's fair to say, however, that the rocket will be a huge deal someday. Starship is not yet fully cooked and certified for operational missions, and it may take some time for this to happen. The first orbital test of Starship will take SpaceX towards that goal, even if the inaugural test doesn't go as planned. "With a test such as this, success is measured by how much we can learn, which will inform and improve the probability of success in the future as SpaceX rapidly advances development of Starship," according to the company.
Want to know more about Elon Musk's space venture? Check out our full coverage of SpaceX's Starship megarocket and the SpaceX Starlink internet satellite megaconstellation. And for more spaceflight in your life, follow us on Twitter and bookmark Gizmodo's dedicated Spaceflight page.