In anticipation of the Apple Watch 2's launch later this year, Apple announced WatchOS 3 today at WWDC 2016.

If you're like me and own an Apple Watch (mine's called My Great Regret) then you can look forward to having apps actually load when you want them to, rather than waiting forty minutes just to check the weather. Apple claims the new OS is seven times faster.
Other major improvements are distinctly iOSy. Those improvements include the ability to scroll through open apps like you might on an iPhone or iPad, and the ability to scroll up to access Airplane mode, battery level, and other quick settings.
In the fitness category, you can now share how much of a lard ass you are with fellow Apple Watch owners, and wheelchair users get a major boost by having fitness tracking catering specifically to them—which may actually be a first in the fitness tracker category.
G/O Media may get a commission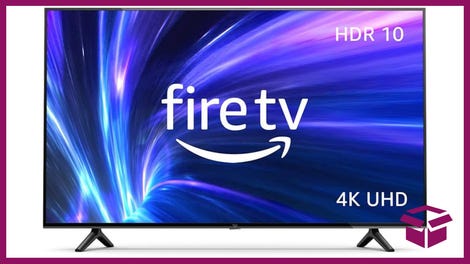 42% Off
Amazon Fire TV 50" 4K Smart TV
The new meditation and deep breathing app, Breathe, isn't quite as revolutionary. Nor is SOS, which lets you easily contact emergency services no matter what nation you might be in.
Hell, even Scribble isn't that amazing. Sure it lets you write messages just by drawing text on the watch face, which Apple demonstrated with a Mandarin text message in a not-so-subtle nod to the company's growing push into Chinese markets. Eschewing keyboards for multilingual writing recognition? Pfft..
The real bright spot is a MINNIE watch face, with motherfucking customizable dresses.