Steven Spielberg wants to direct Chris Pratt as Indiana Jones. Joss Whedon explains how Avengers 2 is totally different. Game of Thrones could send Sansa in a surprising direction. An Agents of SHIELD villain might show up on Daredevil. Plus Doctor Who set photos, and how Supergirl gets her costume. So many spoilers!
Deadly Mississippi Tornado Kills More Than 2 Dozen | Extreme Earth
Top image: Star Wars: The Force Awakens.
Star Wars: The Force Awakens
Yes, even more Star Wars rumors — this time, we apparently have a description of the movie's opening sequences. Allegedly, the film opens on a lightsaber floating in space, before it plummets to the planet below, where a native farmer takes it to someone codenamed 'The Vicar' (this is apparently Max Von Sydow's character), who in turn contacts the Rebel Alliance about the weapon.
This brings Poe Dameron (Oscar Isaac) to the planet, but the Empire arrive soon after - including John Boyega's Finn, who attack the village looking for the Rebels. Dameron is captured by the Imperials, Finn is imprisoned by Kylo Ren for allowing villagers to flee during the fight. Poe and Finn bond while being held in the brig of a Star Destroyer, before hatching a plan to escape together in a TIE Fighter.
As ever, take this all with a pinch of salt. [Making Star Wars]
Or don't! JJ Abrams, speaking to the BBC, had this to say about the process of making The Force Awakens and the bevy of rumors around the film:
We did the best we can to preserve the story for the audience, but it doesn't always work.

There are a ton of rumors — some true, some false. But I'm grateful for everyone who would want to read a spoiler because it means that they care and want to see the movie.
G/O Media may get a commission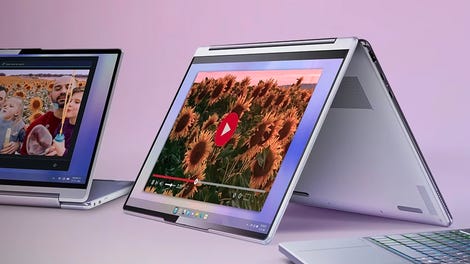 up to 70% off
Lenovo Spring Clearance
So somewhere out there is a true spoiler for Episode VII. Somewhere. [ BBC]
It's official that Carrie Fisher's daughter, Billie Lourd, has a role in The Force Awakens. And apparently it's a big enough part that it impressed J.J. Abrams. He told E! Online: "I've known Billie since she was six or something... So to see her...I can't believe that she's this young woman who's clearly going into the stratosphere." [E! Online]
---
Avengers: Age Of Ultron
Joss Whedon discusses bringing Ultron's power level down to a more reasonable scope for the Avengers sequel:
The powers in comic books – they're always like, 'And then I can reverse the polarity of your ions!' – well, we have to ground things a lot more. With Ultron, we have to make him slightly less omnipotent because he'd win. Bottom line. Also, having weaknesses and needs and foibles and alliances and actually caring what people think of him, all these things, are what make him a character and not just a tidal wave. A movie about a tidal wave can be great, but it's different than a conflict between one side and the other. When Ultron speaks, he has a point. He is really not on top of the fact that the point he's making has nothing to do with the fact that he's banoonoos. And that he hates the Avengers for bringing him into this world, and he can't really articulate that or even understand how much he hates humanity. He thinks he's all that. That guy is very fun to write. He combines all the iconic stuff. The powers he has are slightly different – he can control certain things, he's not just firing repulsors.
Whedon also talks about Godfather Part 2 as the gold standard of sequels, because "you get everything you got from the first Godfather movie in a very different movie, in a movie that structurally couldn't be more different, and thematically and in intent and in mood, and yet nobody ever goes, 'It wasn't Godfather-y enough.'" Tons more at the link. [ Empire Online]
---
Aether
Marc Munden, known for his work on the cult British series Utopia, will allegedly helm this Filmnation Thriller. [Deadline]
---
Indiana Jones
It's not just the internet that wants Chris Pratt for Indiana Jones - apparently Steven Spielberg does too. Not only does Spielberg want Pratt in the lead role, but if the script is up to scratch, he also wants to direct. [Deadline]
---
Spider-Man
Even more speculation about who will play Peter Parker - this time from The Wrap's Jeff Schneider on the Meet the Movie Press podcast, who says that it's almost certain Peter Parker will be played by a non-white actor. He also remarks that Sony and Marvel are still unsure as to whether Spider-Man will be Peter Parker, or another Spider-Hero like Miles Morales. [via Comic Book Movie]
Donald Glover recently spoke about the possibility of playing the role himself:
It would be cool for them to go with something different. To be real, I'd be honored to play it, but I just want to see the best choice. I'd love to see any young guy do something interesting—that goes for the director, Spider-Man, Mary Jane, etc. I just want interesting choices that make people question things. One of the reasons The Dark Knight worked is because people didn't think it was going to work. I'm excited, though. It will be nice to see what Marvel does using him—especially in The Avengers universe.
Finally, Dan Slott, current writer for the Amazing Spider-Man comics, had a little to offer on the announcement, suggesting the iconic storyline Kraven's Last Hunt as a possible arc for the movie to hang itself on:
As a fan? If I had to discount anything that I've written — me and my gigantic ego — I would say the J.M. DeMatteis story "Kraven's Last Hunt." I would love for a screenwriter to mine that material.

This is something that comics fans get upset about when a movie is being made before they get a chance to see it. You have to change things for the movie. There are things that work in a comic, and then there are things that you can only do in a movie. But I think if someone, as a starting point, took "Kraven's Last Hunt," which is one of the greatest Spider-Man stories ever told, I think you could have a phenomenal movie.
[ The Verge]
---
X-Men: Apocalypse
Evan Peters is certain that Quicksilver will play a more prominent role in the next movie:
"I think so, yes," Peters says of Quicksilver taking part in the festivities. "I assume it as well, but I don't know what I'm supposed to say and not supposed to say. I haven't seen a script."
[ I Am Rogue]
Meanwhile, Bryan Singer took to instagram once more to tease some concept art - this time, the briefest glimpse at designs for the Cerebro machine. [via Coming Soon]
---
Suicide Squad
Jared Leto has this to offer about taking on the role of the Joker:
"The opportunity to take on this nearly Shakespearean character — that's what graphic novels and comic books are becoming, right?" Leto says. "[He's] this beautiful disaster of a character — what a big challenge."
The same interview also discusses the actor gaining weight - 'a lot of weight', according to Leto - for the role. [ Billboard]
---
Spectre
Here's a few behind-the-scenes fan recordings of the filming in Rome. [ Cinefilos via Spoiler TV]
---
Daredevil
A teaser picture from the show offers a look at a poster in the series, advertising a boxing match between Matt's father Jack Murdock and Carl Creel - a.k.a. The Absorbing Man, who already showed up in Agents of SHIELD. Little easter egg, or could we see him in a flashback? [Twitter]
---
Game Of Thrones
Alfie Allen, who plays Theon, discusses how characters across the series will begin to interact with each other in Season 5:
I can tell you that there will be characters crossing paths and interacting — especially in my storyline — who have never met, or have had just minute amounts of screentime together. That relationship blossoms, and the running theme of Season 5 is that you get so many different characters who were in different parts of the world crossing paths with each other.
[ Digital Trends via Watchers on the Wall]
Meanwhile, Sophie Tuner says it's exciting that the show is moving on to material that's not drawn from any of the current books. And she hints that season five ends in a way that hints at a really unexpected turn for Sansa in season six:
Judging by the end of how season 5 ends, I think it's going to be the most ambiguous thing ever, what happens to her.
[ IGN via Watchers on the Wall]
---
Colony
The show has been picked up for a full season by the USA network. [ Multipleverses]
---
Sleepy Hollow
Here's an advanced preview for the finale, 'Tempus Fugit' from Spoiler TV:
I love anything to do with travelling back in time, so I loved every single minute of being in the past. I, like a lot of people, worried about the whole slavery aspect of it but rest assured, it isn't something that messes with this episode. We have a couple of people make remarks, and one argues with Ichabod with his ignorance against Abbie. I honestly wanted to slap him. It is a really tricky subject but the writers avoid it when they can. When something does happen, you can see on Abbie's face she's not impressed and she's holding back from smacking them in the face. I, for one, would have loved that.

The other aspects of being in time were simply wonderful. We have Abbie eventually talk some sense (nonsense?) into Ichabod about the future and he takes her to see Benjamin Franklin who is simply delightful. He's so open-minded and curious about the future and you can see the glee on Abbie's face. We also have Katrina who finds out about Abbie and is hot on their heels and with death on her mind. She enlists the help of Abraham (but his face is never shown so I don't think it's the same actor, he never speaks either) and together, they cause some death and destruction. There are some great moments when Katrina uses her powers. They really have peaked, just where has this powerful Katrina been hiding?
And here's a promo picture from the episode - as usual, see more at the link. [Ksite TV]
---
Defiance
The show has commenced production on its next series in Toronto, with new cast members Lee Tergesen, Nichole Galicia and Conrad Coates . [Multipleverses]
---
Agents of SHIELD
Here's a short synopsis for 2.12, 'Who You Really Are', starring Jamie Alexander as Lady Sif:
"Who You Really Are" - Coulson and team come to the aid of a confused Lady Sif, who has lost her memory after fighting with a mysterious warrior whose true mission will send shockwaves through S.H.I.E.L.D. Meanwhile, Bobbi and Mack continue to hide their true mission from everyone close to them, on "Marvel's Agents of S.H.I.E.L.D.," Tuesday, March 10 ( 9:00-10:00 p.m., ET) on the ABC Television Network.
[ Marvel]
But first, images from the midseason première, 'Aftershocks' — find more here. [Spoiler TV]
---
Supergirl
Laura Benanti has been cast as Kara's Kryptonian birth mother, Alura Zor-El. [ Deadline]
Meanwhile, more audition reels for the show have hit the web, including a scene of dialogue between Kara and her neighbor, who will not only help Kara out finding out about ongoing criminal activity, but will also seemingly design and sew the costume she will wear to fight crime:
Supergirl: How do you know how to sew?

Wynn: I'm a social experiment, my moms were trying to create a post-modern man. I can also swing dance and I do a fantastic curry. You look very pretty ... For a crime-fighting alien. Not that you look like an alien.

Supergirl: I got it!

Wynn: Maybe there are entire planets inhabited solely by gorgeous people. So, second thing stopping you from being a crime-fighter is a crime. Hacked into the [cop's] frequency. Think the I.T. would've built better firewalls by now. I suggest we start with something basic. There's a car chase on the 1-12 freeway in progress.

Supergirl: I could do a car chase.
[ CBR]
---
The Vampire Diaries
Here's a synopsis for Ian Somerhalder's first episode in the director's chair:
IAN SOMERHALDER MAKES HIS DIRECTORIAL DEBUT — After shutting off her humanity following the death of her mother, Caroline (Candice Accola) gives her friends an unexpected ultimatum. Not knowing how to handle the new Caroline, Stefan's (Paul Wesley) attempt to intervene sets off a dangerous chain of events, leaving him and Elena (Nina Dobrev) in a race against the clock. Meanwhile, after seeking answers from Kai (guest star Chris Wood) about the prison world, Damon's (Ian Somerhalder) world is turned upside when he learns some devastating news about his mother Lily (guest star Annie Wersching). Elsewhere, Enzo (Michael Malarkey) finds himself becoming increasingly intrigued by Sarah Salvatore (guest star Tristan Mays), and Bonnie (Kat Graham) begins to struggle with the effects of being back in the real world.
[KSite TV]
Julie Plec discussed what's ahead for Damon and Stefan with the reveal that their mother is still alive:
Now that we've met Damon and Stefan's mother, what can you tease about the insanity she's going to bring?

I think the key word you just used was insanity. Here's a woman they thought was long dead, having died a totally natural, human death. And there she is, what, 65 years later than they thought she died in prison world. Which means she's either wrongly victimized, or entirely deserving of her incarceration. So those are questions that are going to be asked and will start to be delivered next [episode] when we get to know more about her.
More at the link. [ THR]
---
Bitten
Here's brief synopses and titles for three episodes from the second season:
Episode 2.05 - Rabbit Hole

Elena guides Dr. Bauer through her first change; the Pack and Coven seek Aleister's identity.

Episode 2.06 - Nine Circles

Aleister casts a mind-bending spell on Elena, forcing her to battle her dark fears and demons.

Episode 2.07 - Bad Dreams

The Council of Alphas reassembles and a surprise visit from Savannah upends the Pack's plans.
[ Spoiler TV]
---
Damien
Omid Abtahi has been cast as a regular on Lifetime's sequel to The Omen. [Deadline]
---
Doctor Who
Several Twitter uses recently shared pictures of location filming featuring Clara on a motorbike (a stunt double standing in for Jenna Coleman) and two Coal Hill schoolkids being told to look up at a UNIT aircraft flying above:
---
The 100
Here's a short synopsis of part two of the season finale, 'Blood Must Have Blood':
PART TWO OF THE EPIC SEASON FINALE — The journey to the City of Light continues, and Jaha (Isaiah Washington) makes a move that shocks Murphy (guest star Richard Harmon). Clarke (Eliza Taylor) receives help from an unexpected source, a visitor surprises Octavia (Marie Avgeropoulos), and Lincoln (Ricky Whittle) gets his revenge. Meanwhile, at Mount Weather, Cage (guest star Johnny Whitworth) moves forward with his mission and Bellamy (Bob Morley) and the group struggle to break free. Paige Turco, Henry Ian Cusick, Lindsey Morgan and Christopher Larkin also star.
[Ksite TV]
Meanwhile here's a very blurry picture from the episode, featuring Clarke and Lexa sharing a kiss. [Spoiler TV]
---
Helix
Here's a clip from 2.7, 'Cross-pollination'. [Spoiler TV]
---
12 Monkeys
Cole goes after the virus in an attempt to stop it being used as a weapon in this sneak peek from 'The Keys'. [Spoiler TV]
---
Once Upon A Time
Here's a few set photos of Robert Carlyle, Emilie de Ravin and Michael Socha filming for season four - more at the link. [Yvrshoots]
And here's a poster teasing the return of Maleficent to the show. [Twitter]
---
Gotham
Here's a trio of sneak peeks from 'Red Hood', offering Barbara Kean's fashion tips for Selina Kyle, the Penguin facing liquor problems, and Gotham P.D. trying to make sense of the Red Hood Gang. [Spoiler TV]
---
Arrow
Finally, some promo pictures from 'Nanda Parbat' - find more at the link. [Spoiler TV]
---
Additional reporting by Abhimanyu Das and Charlie Jane Anders.