The Flash movie is in a totally different universe to the Flash TV show. Not all of Doctor Who's next season may air next year. Ghosts in the Shell casts an upcoming Game of Thrones actor. Plus, leaked Game of Thrones script extracts, more X-Files pictures, and Doctor Strange story details. Behold, Spoilers!

Batman v Superman

In an extensive interview with Collider, producer Charles Roven discusses the movie's balance between characters:
You will definitely understand when you see the movie why we call it Batman v Superman… I'm excited to have people see it. I think it's really a wonderful film. I think Zack [Snyder]'s done an amazing job, all of the actors who are in it, we were so lucky. Just think about the cast that we have, from Ben [Affleck] to Henry Cavill, to Amy [Adams] to Jesse [Eisenberg] to Jeremy [Irons] to Larry [Laurence] Fishburne. Just amazing, and they all really bring it. Really great. Very happy.
Roven also teased an impending trailer for the film:
Honestly, you're going be seeing something very soon… I don't know how you define soon, but certainly before the end of the year, how about that?
G/O Media may get a commission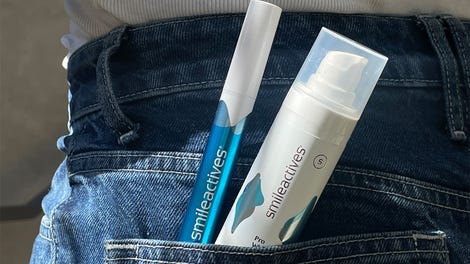 58% off
Whitening Powerhouse Pen & Gel Duo
But his most interesting comment is about a potential "Director's Cut" release of the film, containing much of the footage shot for the film, that may eventually be released:
I don't know if you'll ever get the 4-hour version, but there may be something that's coming along that might be slightly less long than that.
Four hours of Batman v Superman? Holy moly.
---
Star Wars: Rogue One
Brian Muir, the original sculptor of Darth Vader's helmet in the original Star Wars films, has announced that he is working on the movie. Although Muir's work extended well beyond just Darth Vader, this potentially lends credence to the talk that Vader will play a major role in the film. [Making Star Wars]
---
The Flash (Movie)
In the same interview where he discussed Batman v Superman with Collider, Charles Roven also reiterated that the movie incarnation of Barry Allen is completely separate from the TV show's universe:
Whether it's The Flash or Arrow, they're doing a great job with the TV shows they're doing. Gotham, that show's really terrific. And we obviously wish them the best. It's gonna be interesting to see what happens when we have a different Flash in a different universe. We're gonna try to stay in our universe and they're gonna be staying, I think, in their universe, and hopefully the audiences will embrace both. I think they can.
---
Doctor Strange
Latino Review claim to have details about the film's opening story beats. The film allegedly opens in 1968 Kathmandu, as cultists led by a man named Kaecilius (a character related to Baron Mordo in the comics) open a portal to another dimension.
The film then flashes forward to the modern day with Stephen Strange performing an operation on a gunshot victim, before an accident in his car severely damages his hands. Following failed surgery, an encounter with magic will see Strange travel to Nepal in search of training that might help his hands recover.
---
Ghost in the Shell
Game of Thrones actor Pilou Asbæk has been cast in the film as Batou, Mokoto Kusanagi's second in command in Section 9. [CBR]
---
Star Wars: The Force Awakens
Shonda Rimes has unveiled that a special preview of the film will air in ABC's soap block on Thursday:
---
Ant-Man and The Wasp
Writer Adam McKay would like to return for the sequel:
I was talking to [Paul] Rudd about it the other day. We'll see what happens, but that would certainly be fun. I loved working with Marvel. And I have a couple of projects in development. One of them is more dramatic, one's more comedy, still with a little bit of political teeth to it. And there's a TV show idea I've been kicking around.
[/Film]
---
Annihilation

Gina Rodriguez (Jane the Virgin) is in talks to star alongside Natalie Portman in the movie adaptation of Jeff VanderMeer's novel, about "a group of women who take on a dangerous mission where the laws of nature don't apply," directed by Alex Garland (Ex Machina). [The Wrap]
---
Game of Thrones
An actor on the series accidentally posted an image of his tablet, with a page from a script from the next season visible. The image was quickly deleted, but Mashable transcribed some of the dialogue, what appears to be a rather NSFW conversation between two Dothraki about Daenerys:
"I like her."

"She's paler than milk."

"I bet she gets nice and pink when you pinch her."

"I'd like to know what a Khaleesi tastes like."

"Good. You can suck my dick."

*Laughter all round*
---
Empire of the Dead
George Romero's Marvel miniseries about a post-zombie apocalypse world ruled by Vampires has apparently been optioned for a series at AMC. [/Film]
---
Arrow

The 11th episode of the season will be called "AWOL".
---
Once Upon A Time
EW are reporting Victoria Smurfit will reprise her role as Cruella De Vil throughout the second half of the current season.
---
Doctor Who

Talking to the fan podcast Radio Free Skaro, production designer Michael Pickwoad has claimed that the show's 10th season won't begin production until February or March—much later than the usual beginning of production for the series, perhaps lending credence to recent discussion that not all of the run of 12 episodes will air in the coming year. [Den of Geek]
---
The X-Files
Finally, here's three new promo posters of the main cast:
---
Additional reporting by Gordon Jackson and Charlie Jane Anders. Image: Batman v Superman.