The Golden Globes may have been the biggest news in Hollywood today, but second was the release of the Black List. It's an annual list where Hollywood tastemakers vote on the best unproduced screenplays floating around town. And this year, as expected, there's a good amount of science fiction.
The scripts on the list, and their writers' names, may not be familiar now, but Black List movies often become big studio films. So take a glimpse and file these away. They could just become the best science fiction movies of the rest of the decade.
Here are the titles, writers, and official descriptions of the science fiction films on the 2016 Black List.
VOYAGERS by Zach Dean
The cosmic love story of Carl Sagan and Ann Druyan.
IN THE BLINK OF AN EYE by Colby Day

Explores the entire history of the universe and our species through three interwoven storylines that question the very nature of life, love, mortality, where we've been, and where we're going; the past, present, and future of the human race.
G/O Media may get a commission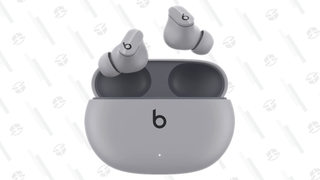 THE TIME TRAVELER'S LA RONDE by Tom Dean

An exploration of relationships as a man witnesses different types of love across the ages.
FAIRY GODMOTHER by Chiara Atik

When sought after Fairy Godmother Faye is hired by a mind-bogglingly gorgeous teenage client, Kenzie, to find her true love with the hottest prince in the land, Faye finds herself facing an unfamiliar challenge when the prince starts falling for her instead.
FREE GUY by Matt Lieberman
A bank teller stuck in his routine discovers he's a background character in a realistic, open world action-adventure video game and he is the only one capable of saving the city.
I THINK WE'RE ALONE NOW by Mike Makowsky
The apocalypse proves a blessing in disguise for one lucky recluse — until a second survivor arrives with the threat of companionship.
MAN ALIVE by Joe Greenberg
After an alien invasion takes over the minds of humankind, one survivor known as "Man" must make peace with the alien force to fight a greater evil.
MOTHER by Michael Lloyd Green
A teenage girl is raised underground by a robot "Mother" – designed to repopulate the earth's surface following an extinction-level event. But their unique bond is threatened when an inexplicable stranger arrives with alarming news.
To read about the other films on the list, as well as find out producers and studios behind these scripts, check out the full list.