San Francisco police are investigating an incident at a quinceañera that sent 19 people, including a six year old, to the hospital after they unknowingly ate marijuana-laced gummies. Sadly, it's not an isolated incident—and it's a problem that's only getting worse.
The incident happened on Saturday in San Francisco's Mission District and highlights a growing problem now that TCH is being infused in everything from smoothies and cookies right through to cupcakes and gummy worms. The kids were attending a girl's 15th birthday party when it happened, but it's not known if the candied edibles were served deliberately or accidentally, or where the highly inappropriate party favors came from.
In all, 19 partygoers were sent to the hospital, 13 of whom were between the ages of six and 18. They must have ingested copious amounts of the candied gummy rings, because their symptoms were indicative of marijuana poisoning. The San Francisco Department of Public Health said the partygoers were exhibiting signs of rapid heart rate, high blood pressure, dilated pupils, dizziness, light-headedness, nausea, lethargy, and confusion.
There was initial uncertainty over whether or not the candies were laced with THC, but subsequent tests confirmed the suspicions. All patients were released from area hospitals on Monday.

"[This] event is a strong warning about the dangers of edibles, which can be very potent and hard to control dosage in the best circumstances," noted Tomas Aragon, the Health Officer for San Francisco, in a statement. "A situation like this, where they were consumed by unsuspecting people, and many children, is greatly concerning."
G/O Media may get a commission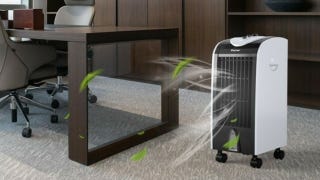 Save $10
Evaporative Portable Air Conditioner Cooler with Filter Knob
The San Francisco police are now investigating the incident, and they're likely going to talk to the Oakland-based company that catered the quinceañera.
As noted in STAT, poisoning of children by accidental marijuana ingestion is rising in the US, particularly in states where the drug is legal. Across the country, rates are increasing by an average of about 20 percent a year. In Colorado, where the drug has been legal since 2014, the figure is closer to 34 percent each year. In more than half of all pediatric poisoning cases, edibles were involved.
It's obviously not good that kids are accidentally getting sick from marijuana. The effects of the drug may be fun for consenting adults, but for children—who likely don't know what's happening—it can be a terrifying experience. Compounding the problem is the fact that the amount of THC in edibles are inconsistent, and that kids often like to binge-eat their candies. Finally, it has been shown that marijuana is not good for the developing brain; accidental ingestion of these edibles could have lasting neurological and emotional consequences.
So for parents who like to indulge in their edibles, whether they be cookies or gummies, please be sure to store them in a place where your kids can't get to them.