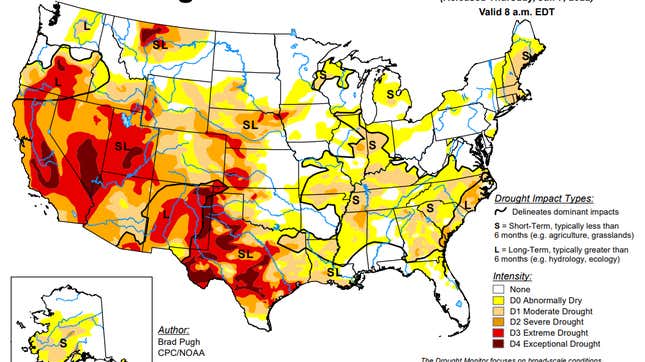 The western and southwestern U.S. is wilting under the biggest drought in 1,200 years—a megadrought. As of writing this, most of the country is experiencing drier-than-normal conditions, but things remain particularly severe from Texas into Oregon.

Scientists have identified climate change as a significant contributing factor to the extent and severity of droughts in general. And one study pegged about 40% of the current dry conditions in the Southwest on human-caused climate shifts.

We're seeing the usual consequences of drought: water restrictions pop up, reservoirs hit record lows, wildfires spin out of control, and crops suffer. But the longer the West's dry spell goes on, the more bizarre the drought-related stories get. Here are some of the oddest impacts happening or likely to happen so far.