Today at New York Comic-Con Marvel premiered the first ever footage from Daredevil. And it looks great and dark, so very dark. This is not your cutesy Marvel TV series. Why? Because Vincent D'Onofrio as Wilson Fisk (the Kingpin) is SENSATIONAL. Get ready.
Jeph Loeb took the NYCC stage to premiere three excellent clips from the new Netflix series and introduce the brand spankin' new cast. So first let's make with the intros because there's a few new names in this bundle. Charlie Cox is the Matt Murdock (Daredevil), Debra Ann Woll is Karen Page, Vondie Curtis-Hall will play Ben Urich, Vincent D'Onofrio is Wilson Fisk (the Kingpin), Bob Gunton is Leland Owlsley, Elden Henson is Franklin Foggy Nelson, Ayelet Zurer is Vanessa, and Toby Moore is Wesley (the Kingpin's number 2). And now we officially know that Rosario Dawson will be playing Claire Temple. To which Loeb joked, "She is, as many of you know, a nurse who works at night.
And that's the new cast. So, so, so, so much more great things to say about this panel and the footage they presented but first let me tell you what we saw.
G/O Media may get a commission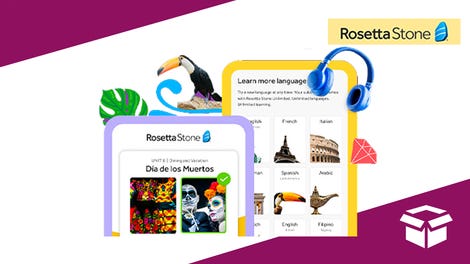 Extra 20% off
Rosetta Stone Lifetime Subscription - All Languages
CLIP ONE:
The first clip we saw was one of action. The scene takes place inside Karen Page's (True Blood's Deborah Ann Woll) apartment. It is dark and green. The whole series is about two green tone down from a David Fincher movie, but it's still fairly green. And dark. It's almost hard to see all the action (which could be just the nature of screening dark footage in a giant hall) but it's dark. Karen gets home and sees the window open, she's nervous, there's a spot of blood on the floor (or black goo, again so dark). Even more nervous Karen climbs her furniture, rooting out what appears to be a USB flash drive squirreled away in an air vent. She sighs, but she's not alone. I dark haired man appears from the shadows and just chucks her against the wall. This causes her to scream and drop the USB stick or whatever. The intruder grab it, and then takes out a knife (cue the knife noise). But before he can slice up Karen there's another intruder. No it's Daredevil! But it's early Daredevil, pre-suit Daredevil. Instead of his traditional comic mask he's wearing a very Princess Bride-inspired cover. It's exactly like this image that was released today:
Obviously this is an early version of the super suit which only lends more reality to this series that is desperately channeling the whole realistic, gritty angle.
The fight, it's intense, it's quick, it's dirty but mostly it's very dark. At some point Daredevil falls out the window, clangs on some scaffolding and lands facedown in the street. The knife CLANGS to his side, the rain thunders on the pavement. All the sounds are heightened.
And then BOOM you're back in time. Daredevil is having a flashback. Everything has a yellow hue. Little Matty Murdock is asleep at a kitchen table and his Dad wakes him. He tells him to study so he won't end up "like him." He holds a bag of frozen vegetables to his face. He's been beaten, bad. His boy feels his bruises. And his father says, "Come on Matty get to work."
These Fatherly words spring modern day Daredevil back to life. As he pushes himself up, black rain falls off his head. But even in the dark rain it's easy to make out the red blood that pours from his mouth. Then Daredevil beats the ever loving shit out of the intruder. It's excellent.
CLIP 2
The second scene showcased Rosario Dawson and Charlie Cox's banter. Murdock wakes up in Claire's apartment on her couch. It's quick and fast but it's good. Fairly believable for the situation that is being showcased. When Murdock freaks out (being blind and on a stranger's couch) she fires right back at him. Somehow Claire fished Murdock out of the trash and now wants to know, "how a blind man in a mask ends up beaten half to death in my dumpster?"
Murdock has other concerns, "you've seen my face." He states and refuses to tell her his name. Claire is nonplussed, "I'm not looking for some guy to die on my couch on the night off." They do the whole "the less you know about me the better" exchange and Claire settles on calling him Mike because, "a guy I used to date turns out he was very good at keeping secrets too.
It's quick, it's good, it's still in that green filter but that pace is great.
CLIP 3
The absolute best clip of the night. This is all Kingpin. The scene is the first time Vanessa meets Wilson Fisk. She's wandering around an art gallery. The camera cuts to a gigantic bald figure standing in front of an all white painting. It forms an intense outline, like he's standing in front of a storm. It cuts a serious figure. Vanessa approaches the massive man and says, "It's an old children's joke. You hold up a white piece of paper and ask what's this?... A rabbit in a snow storm."
The camera scans Vincent D'Onofrio, pauses on his cufflinks and expensive suit. Vanessa asks, "Interested?" Fisk turns towards her and repeats, "interest." The whole crowd gets chills. Vanessa continues on talking about the work before them. She says the only thing that matters [about a painting] was how it makes you feel. And pushes forward and asks Fisk how this piece makes him feel?
He turns towards her, looks at her, pauses and then states, "It makes me feel alone." The scene ends with both characters starring at one another in front of the great, white painting. Daredevil, get ready to be one upped by D'Onofrio.
CLIP 4
A lighter clip this short moment showed the softer side. Murdock in his day role as lawyer for Nelson and Murdock. And Cox goes full dorky Murdock in it. Sure he's charming but he's not too charming. Together Murdock, Nelson meet (and are fed) by Karen Page. It's her thank you for getting her out of jail. She's feeding them and basically asking how she can help. They all decide by joining the tiny firm. It's cute. Very cute.
But besides the clips lots of very interesting things were said by the cast and crew. Here's a few highlights that should get you very, very excited.
When asked which comics Cox became inspired by he listed, "Obviously [Frank] Miller's Man Without Fear has been a great influence. We used a lot of that imagery. I like the Bendis, Maleev stuff. I think tonally, it suits our show really, really well."
On his character Cox elaborated (a little). "He plays a lawyer by day but takes the law into his own hands at night. All the time in-between is spent battling with that concept. We see a bit of Matt's father and who he wanted matt to be and I think that plays on Matt's mind a lot. "
Vincent D'Onofrio on his villain. "[Wilson Fisk] is a child and he's a monster. Every move he makes in our story comes from the foundation of morality inside himself. And meeting Vanessa, the one thing that she does for him so far is bring him out of the shadows. So we've been able to do, like they've done with Charlie as well, is you have a feeling of the origin of Wilson. And how he becomes this iconic character that everyone seems to dig. We're playing it real. We're playing it emotional and moment to moment." WONDERFUL!
What's the difference between doing an HBO series and a Netflix series? Cox answers, "Ending an episode with a cliffhanger is kind of pointless. Oh what's going to happen? And you just click a button and you have an answer.... I think [Daredevil] will feel more like a 13 hour movie."
Daredevil will be playing with the grey area. At some point you will be cheering for Murdock and at other points, Fisk. Showrunner Steven DeKnight teases that Daredevil is just one bad decision away, "from becoming Frank Castle."
Seriously if these quotes don't get you jazzed up for Daredevil nothing will. Full disclosure this Netflix series wasn't entirely on my radar, but now I expect I'll marathon the whole damn thing on release.