Reports are quickly spreading of a "meteorite impact" near Managua, Nicaragua. Circumstantial evidence supports the impact theory, but just as equally supports an explosives mishap from the nearby military base. Here's what we know, and what we need to know to tell the difference.
Is this an impact crater? Image credit: AP/Nicaraguan Army
A loud blast and ground shaking was observed late on Saturday, September 6th near Managua, the capital of Nicaragua. By Sunday evening, a large crater (12 meters wide, 5.5 meters deep) was discovered in a remote section of the international airport. The airport is also the local air force base.
The initial observations are ambiguous for distinguishing between a meteorite impact, or a far more mundane explosion related to military activities or training:
The crater superficially looks fresh, but the surrounding area is completely unaffected. This only makes sense for a clean, vertical impact, or for detonation of explosives.
No impactor (meteorite or explosives shrapnel) has been identified. The hunt is already on with metal detectors. A tightly-spaced geophysical survey using ground penetrating radar could define the shape of a buried object.
A government official describes seeing "mirror-like spots" on the sides of the crater. I'll be really curious about how a geologist describes them — metal fragments, shocked quartz, or something else entirely.
Despite being adjacent to a crowded city of over 2 million people, no fireball was reported or thus far identified on security camera footage. Not every impactor produces a fireball, but a meteorite big enough to generate that crater should have been as bright as a full moon. With our constant surveillance of everything everywhere, it is a bit weird to not see anything. (Some stories are simultaneously describing this event and a fireball witnessed in Spain; they are two distinctly different events.)
The timing doesn't match up with any known close-encounters with space-rocks or space junk. It was superficially close to the timing of a massive near-miss asteroid (2014RC), but 13 hours too soon. Admittedly, we haven't done an exhaustive job of surveying space for small rocks yet, and it's not that uncommon for us to be hit by something we didn't see coming. (But no, we are not facing an onslaught of asteroid impacts.)
Some eyewitnesses describe strong scents of gunpowder, burnt felt, or burning. Neither of these smells make sense for a meteorite impact, but are in line with a traditional explosive.
Seismograms of the event show that something exploded, but the seismic wave characteristics of a small impactor or a anthropogenic explosives are similar enough that about all we can say is, "Something happened."
Infrasound records of air pressure could clarify if this was a meteorite that passed through the atmosphere or a terrestrial explosive, but so far no records with either a signal or a conspicuous lack of signal have emerged. Locals report having felt an airblast shockwave at the same time as hearing the event.
G/O Media may get a commission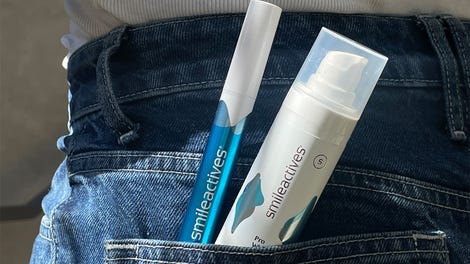 58% off
Whitening Powerhouse Pen & Gel Duo
For now, it's plausible this was a meteorite impact, but it's slightly more plausible that the crater was caused by a more mundane explosion. Until we have more information — a geological investigation of the crater, finding toasted meteorite fragments or bomb shrapnel, infrasound records from the time of the event — we just don't know enough to definitively confirm if this was an impact event, or an explosion of misplaced ordinance.