Left hand on A S D F? Good. Right hand on J K L and, for some reason, ";"? Congrats, you're in home position! A thing basically every learned in their school's computer lab and never used for the rest of their lives. Did you learn other things? Brag a little louder about going to private school why don't you?

Questionable value to life skills aside, the overactive imagination of children isn't best stimulated by the limited palette of edu-tainment games like Word Munchers or Type or Learn or, god help us Mavis goddamn Beacon. Professional, adult people put a room full of children in a room with a lot of unfamiliar, expensive hardware. It was an open invitation for hijinks, pranks, and maybe some potential CFAA violations.
"In my last year of high school certain individuals put a key copy program on the compsci teacher/sys admin's workstation," one Gizmodo staffer admitted. Another freely disclosed that they "remember teaching classmates how to use browser tunnels and proxies to bypass those stupid kid filters that wouldn't let you look at anything fun." It is unclear what they chose to use this newfound freedom for.
But vague hacking aside, the now-adult but still puckish writers at this website used their time in the presence of nascent technology for everything from sending hundreds of blank pages to printer to jam up the network, to covertly installing better, funner games on school property—in my case, Snood.
Look, we all goofed off instead of learning typing skills or how to code in BASIC. Lets take a moment to admit, brag even, about what we got caught doing and got away with. Some of you probably broke into email servers or changed your grades Ferris Bueller/WarGames-style. Content filters were hilariously inept and at least one of you assuredly watched porn on some 1990s-era Gateway tower.
G/O Media may get a commission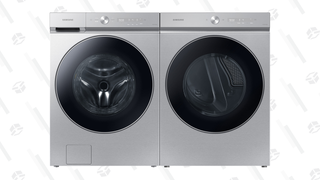 Get $500 back in credit
Last Chance: Samsung Bespoke AI Washer and Dryer Preorder
So fess up below, if you've surpassed the statute of limitations applicable to your circumstance and tell us: Whadjado?