Did that swirl of gas and dust just face-palm a pulsar? System PSR B1509-58 has a history of inspiring pareidolia, and this latest infrared and x-ray composite image is just calling out for creative interpretation.
Top image: X-ray (gold) and infrared (red, green, and blue) composite of neutron star PSR B1509 imaged in 2014. Credit: NASA/CXC/SAO (X-ray) and NASA/JPL-Caltech (Infrared).
PSR B1509-58 is a pulsar with a decidedly uncatchy name approximately 17,000 light-years away. The first X-ray images of it in 2009 provoked people into declaring they saw a hand in the fingering stretches of high-energy electrons emitting X-rays as they spiralled through magnetic fields. Now the latest infrared layer is eliciting new reports of a nebulous face.
PSR B1509 in infrared (white), radio (purple) and X-ray (blue and gold), imaged in 2009. Image credit: NASA/CXC/SAO/P.Slane, et al. (X-ray); 2MASS/UMass/IPAC-Caltech (Infrared); Molonglo Obs. Synthesis Tel. (Radio)
G/O Media may get a commission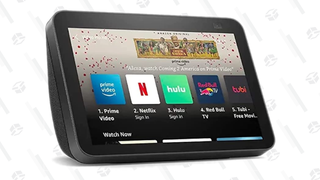 The 2009 multiwavelength composites of the system trace out gas and dust blown away from the pulsar by energetic winds. The composite set against an infrared sky survey (above) is the big-picture contextual image of the nebula, with electrons swirling through magnetic fields emitting frantically in X-ray light, while the dusty remnants of supernova SNR G320.4-1.2 encompass the system in fuzzy clouds visible in radio wavelengths.
The same scene is seen in a tighter scale set against an optical view of the system (below). In it, gas clouds are visible in visible light, while bright fingers and glowing globs highlight areas of electrons dancing through powerful magnetic fields.
PSR B1509-58 in optical (white) and X-ray (blue and gold), imaged in 2009. Image credit: NASA/CXC/SAO/P.Slane, et al. (X-ray); WFAU/SuperCOSMOS (Optical)
Both PSR B1509-58 and the more-famous Crab Nebula formed by pulsars blowing gas and dust into glowing nebulas. Both are relatively young systems: we saw the Crab Nebula collapse in 1054 A.D., while B1509-58 is an estimated 1,700 years old. But while after 960 years the Crab Nebula stretches across 10 light years, B1509-58 encompasses a span of 150 light years. Astronomers think the relative size differences reflect different environmental conditions when the pulsars were born.
Size comparison between the Crab Nebula (inset) compared to PSR B1509-58 (main image). Image credit: NASA/CXC/SAO/F.Seward et al. (Crab); NASA/CXC/SAO/P.Slane, et al. (B1509-58)
What do you see in this scene? Is it a cosmic facepalm, or something entirely different? Does cycling through the multi-wavelength composites provide a fresh interpretation? You may also appreciate this ambiguous infrared nebula, a dolphin galaxy, a seagull nebula, or a cosmic silhouette for more inspirational astronomical objects.