Some people think they are names of death metal bands. Others think they are made up names stolen from some Tolkien book on elvish lineage. The fact is that all of IKEA's products follow a logic and have a meaning. Ish.
Here's an overview:
Bookcases are occupations in Swedish
The famous Expedit means shop assistant.
G/O Media may get a commission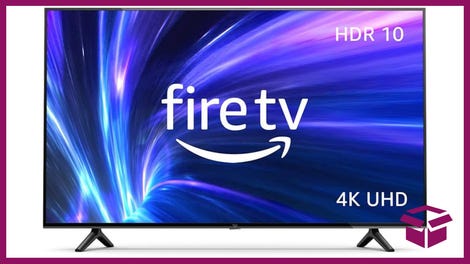 42% Off
Amazon Fire TV 50" 4K Smart TV
Hall furniture, beds, and wardrobes are named after Norwegian places
The Mandal beds are named after this Norwegian town:
Dining tables and chairs are Finnish and Swedish places
That's the Bjursta table, a tiny village in Västernorrland County, Sweden:
Carpets are named after Danish places
This Vemb rug is a small town in Denmark:
Bathroom storage and accessories are named after Scandinavian rivers, lakes, and bays
These Limmaren bathroom bottles are named after this little lake in Sweden:
Desks and chairs are named after men's names
The Micke desk is short for Mikael, Swedish for Michael, like Mikael Blomkvist:
Fabrics, materials, and curtains are women's names
Those curtains are called Merete. These two women are named Merete:
Curtain accessories are mathematical and geometrical terms
These curtail rails are named Kvartal, or quarterly in Swedish
Bed linen, covers, pillows, and cushions are plants, flowers, precious stones
The Smörboll duvet cover and pillowcases means globeflower in Swedish:
Lighting gets pretty crazy. It can be music terms, seasons, months, days, chemistry, meteorology, measures, weights, boats, nautical terms:
The Årstid series is Swedish for season. But then have the Stockholm, which is a city.
Kitchens are grammatical terms, and there are also exceptions
The Rationell cabinet system is rational in Swedish, which seems like a pretty apt name.
If you want a translation for all of them, you always have the IKEA dictionary. Here's the letter V as a sample:
V
VACKER beautiful
VAKEN awake
VARIERA vary
VARSAM careful
VASEN the vase
VASS sharp
VEJMON village in north Sweden
VERKLIG real
VERKSAM active
VERSAL capital letter
VESSLA weaselW
VETE wheat
VILDBÄR wild berries
VILSE lost
VILSHULT village in south Sweden
VITSKÄR tiny godforsaken Swedish island
VÅG wave
VÅGEN the wave
VÅRLJUNG spring heath
VÄGGIS made up -IS word 'Vägg' means 'wall', so 'väggis' could mean 'wall thingie'
VÄGHULT tiny place in Småland
VÄNLIG friendly
VÄXT (a) plant
Why these names?
IKEA—which itself is an acronym for Ingvar Kamprad (the founder), Elmtaryd (the farm in which he grew up) and Agunnaryd (the village in which he grew up)—says that the name convention comes from the fact that the founder of the company is dyslexic and needed a code to classify the products.
I just like to think that those crazy Swedes are just fucking up with us.
---
SPLOID is a new blog about awesome stuff. Join us on Facebook