A month after Apple revealed a new smartwatch and a new iPhone lineup that finally does away with the home button once and for all, the company will hold a follow-up event next week that's tag-lined, "There's more in the making." A new, home button-less iPad Pro seems likely, but what else does Apple have planned to round out 2018?
Next week's event officially gets underway at 10 a.m. ET on Tuesday, October 30, at the Howard Gilman Opera House in Brooklyn. There's no reason to believe Apple won't once again livestream the event on its site, but Gizmodo will also be there, keeping you looped in on all the new hardware and why it matters. To tide you over, here's a rundown of everything we expect to see, and what will probably be a no-show.
New iPad Pros
The oversized iPad Pro and the Apple Pencil stylus helped cement the iPad as a genuine productivity tool—why else would Adobe finally port the full version of Photoshop to iOS? So new iPads will probably be the star of next week's event.
Rumors have it that the larger version of the iPad Pro will retain its 12.9-inch screen size, while the smaller model from 2017 may once again get a minor screen size bump from 10.5-inches up to 11.
It's strongly rumored that Apple will be removing the iPad Pro's home button as well, replacing the fingerprint reader with Face ID authentication using an upgraded front-facing camera, and taking the opportunity to radically reduce the size of the tablet's bezels.
G/O Media may get a commission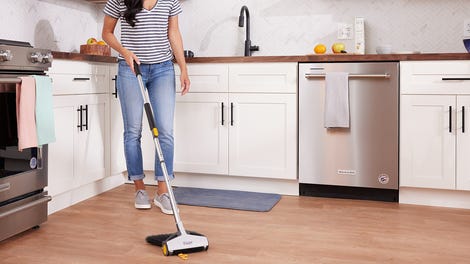 BOGO 50% Off
Flippr - BOGO 50% Off
The new iPad Pros could also sport a more boxy design, reminiscent of the much-loved iPhone 4, and an all-metal aluminum back. And while it's been rumored for years now, according to industry analyst Ming-Chi Kuo, who has an excellent track record for predicting Apple's unannounced hardware, the new iPad Pros could sport improved displays, and might also be the first mobile devices from Apple to swap the Lightning connector for a USB-C port. It would make the tablet compatible with more accessories, but the Lightning port is also a licensing revenue stream for Apple, so that upgrade still seems like a long shot.
The iPad Pros could finally ditch the headphone jack too, giving Apple users another reason to upgrade to AirPods.
Finally, it's predicted that a new version of the Apple Pencil will be revealed next week, possibly sporting a USB-C connector on the end so that it can be more conveniently charged from a MacBook, or other power sources, without the need for an annoying daisy-chain of USB adapters. The new Apple Pencil might also use the W1 wireless chip for easier pairing, and possibly even feature magnetic connectivity so that it can be attached and stored on the side of the new iPad Pros.
Update 10/30/18 9:42am EST - According to 9to5Mac, a new high-res icon has been discovered in iOS 12 revealing an iPad Pro with thinner but uniform bezels all the way around, no home button, a sleep/wake button in the upper right corner, and volume buttons located on the right side near the top.
---
A new iPad Mini
It almost seems like Apple has forgotten about the iPad Mini, or is happy to let the product die as it pushes the iPad towards being a more powerful computer replacement. But according to Ming-Chi Kuo, next week might see the arrival of the iPad Mini 5, featuring an upgraded processor, but a lower cost LCD panel used for the display which could help reduce its price tag. The iPad Mini was last updated back in 2015.
---
A MacBook Air replacement
According to a Bloomberg report from August, which was supported by recent predictions from analyst Ming-Chi Kuo, Apple will also be soon revealing a replacement for the MacBook Air which is the only computer in its lineup that doesn't sport a high-res Retina display. The low-cost replacement, which may or may not keep the 'Air' designation (it could also be a cheaper addition to the 12-inch MacBook line) will include a screen that's roughly 13-inches in size, but with thinner bezels around the display to reduce the laptop's overall footprint. It would be about time.
---
Updated iMacs
An Apple-focused French blog, Consomac, spotted a filing Apple made in the Eurasian Economic Union for various MacBooks and Macs, but four of the model numbers listed are for unknown products, including three Macs that have yet to be revealed. Apple's desktop computers have always been a reliable seller, and in recent years the company has made efforts to improve their performance for professional photographers, designers, and other high-end users. But these days they aren't refreshed as often as the company's portable devices are, so perhaps next week will bring some much needed upgrades.
---
The Mac Mini rises from the dead?
Last updated back in 2014, the Mac Mini technically isn't completely dead yet, but it sure seems like Apple is keeping it on minimal life support to appease home theater enthusiasts and app developers who don't need a powerhouse machine. But Bloomberg believes that the low-cost, barebones computer, which ships without a screen, keyboard, or mouse, is on deck to get a 'pro' upgrade like the iMac did. But the addition of more storage and a faster processor could also make the Mac Mini more expensive than previous versions, which could tarnish its appeal.
---
AirPower finally arrives? Don't count on it
It's been over a year since Apple first teased its homegrown wireless charging pad that could handle multiple devices at once, including iPhones and the Apple Watch. When AirPower was absent from Apple's iPhone event back in September, it seemed like the company might have over-promised and needed to go back to the drawing board.
According to tech blogger Sonny Dickson, the AirPower charging mat suffered from overheating issues which, among other complications, reduced charging speeds as devices get too hot. AirPower, which Dickson's sources claim uses at least 21 coils to charge multiple devices, also had issues with monitoring device charge levels, and simply squeezing all that hardware and circuitry into the discreet form factor Apple teased a year ago. If Apple had somehow succeeded in working out all the kinks, AirPower is a product that would benefit the iPhone the most, which means last month's big iPhone event might have been the best time for the company to announce its availability—not a month later alongside iPads and MacBooks.
---
Upgraded AirPods with a wireless charging case
So the AirPower mat might not arrive this year—or ever—but when the product was first teased, Apple demonstrated it with an upgraded version of the AirPods case that could be charged wirelessly. Wireless charging pads aren't uncommon at this point, and alongside an update to AirPods that could possibly include a new wireless chip that enables "Hey Siri" functionality (instead of having to physically double-tap your earbuds to activate it), we might finally be able to just plop our headphones down on a mat to top them off.