Robert Kirkman explains the thinking behind one of the mysteries of The Waking Dead's season finale. Sebastian Stan explains his hopes for the Winter Soldier's future. And Nikolaj Coster-Waldau talks the women in Jaime's life in Game of Thrones. Plus, Extant adds a guest-star from Scandal. Spoilers now!
Avengers: Age of Ultron
Photos and video from filming in South Korea shows Chris Evans in yet another look for Captain America. Here's a photo from Earth Prime Weekly's Twitter:
And a video from Comic Book Resources:
---
Captain America: The Winter Soldier
Sebastian Stan explained how the Winter Soldier acts as a foil for Captain America:
He is a direct problem for Steve Rogers' psyche because of who he used to represent to him. He's a good adversary, because he plays into Steve's Achilles' heel. We saw, after the first movie, that Steve Rogers went into this post-traumatic stress-type guilt because he wasn't able to help his best friend. When Steve comes face-to-face with the Winter Soldier, he faces a dilemma within himself that he's partially responsible for. That's already a weak point for Steve.

Then, the Winter Soldier has a weapon in the form of a metal arm that can go toe-to-toe with Cap's shield. And he's more evolved at this point. All of the skills the Winter Soldier has always had, from being a mercenary, and being skilled in terms of knife training, close hand-to-hand combat and being a really good sniper — all those things have been amplified as the Winter Soldier. He's a pretty good threat.
G/O Media may get a commission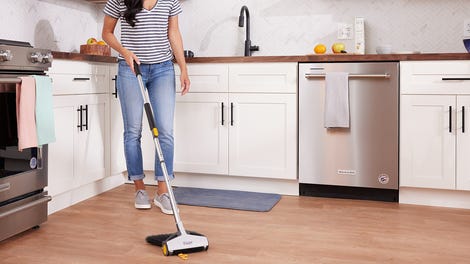 BOGO 50% Off
Flippr - BOGO 50% Off
Stan also commented on where he'd like to see the character go:
I'll just leave it to surprise. I know that's not a very exciting answer. I enjoy playing the character. I have a lot of fun. I'd love to continue the story. In the comic books, the Winter Soldier gets to the point where he's having to deal with his own struggles of embracing this world and what has really happened and what he's been up to in the last 50 to 70 years. As an actor, that would be a great challenge and also an interesting part to work on. I'm excited to see what happens next!
---
The Last Witch Hunter
Oscar-nominated writer Melisa Wallack (Dallas Buyers Club) has been hired to polish the script for The Last Witch Hunter. The film is set to star Vin Diesel as a witch hunter who partners with a witch to defeat New York City's covens. Breck Eisner (Sahara) is directing. [Deadline]
---
X-Men: Days of Future Past
Here's a new TV spot. [Slashfilm]
---
Godzilla
Go here for a ton more new photos from the film, with a lot of destruction showcased. [Nuke the Fridge]
---
Dawn of the Planet of the Apes
Here's a poster. [Coming Soon]
---
The Walking Dead
Showrunner Scott Gimple said that it was unlikely that Scott Wilson or David Morrissey would return for season five, saying that he didn't see it for the "immediate future." He also previewed some more action-heavy episodes for the start of season five:
I would say that these next eight episodes are going to be a little more action-heavy, with a lot of big twists. Really 85% of them are together again, so it's a pretty good guess that they're going to remain together and that's going to give us a whole new emotional dynamic as well, So I guess the biggest thing is prepare for a very different Walking Dead. Yet again.
[Deadline]
Robert Kirkman also spoke a little bit about season five, despite being unwilling to confirm anything about Terminus and previewing what the ending meant for Rick:
There are a great many number of possibilities for that storyline and who those characters are and what they're doing, and that [they are cannibals] is certainly one of them. It's not completely out of the realm of possibility, but I can neither confirm nor deny anything at this time. Who the people of Terminus are and what their deal is will be dealt with fairly quickly when we come back for Season 5.

. . . [Rick's] resigned to the fact that he's going to have to be a different person in order to survive. He's really accepted the fact that he is that guy. He's the guy that can take that on, that can be that leader, that can go to those levels if he needs to. Now that he knows that that's in him, there's a confidence to him now that he hasn't had before. And that confidence will carry with him into Season 5 and, theoretically, get them out of that horrible situation.
He also explained why they refused to show some characters in the finale:
Seeing that group in the train car and knowing that all of those people are together and that Rick is very capable and very prepared… We kind of felt like we needed more unknowns to keep people guessing. And leaving the fate of Beth and Carol and Tyreese and Judith completely ambiguous kind of gives us that. We'll deal with [their whereabouts] fairly quickly when we come back for Season 5. They could be in another train car. They could be in part of the barbecue, as you say. Or, maybe, they found a Denny's and they're just having a good time.
[TV Line]
Alanna Masterson (Tara), Christian Serratos (Rosita), and Andrew J. West (Gareth) have been promoted to regulars for season 5. [The Hollywood Reporter]
Here's a video of the cast and crew speculating about where their characters are headed. [Coming Soon]
---
Game of Thrones
Nikolaj Coster-Waldau talked a bit about the reunion between Jaime and Cersei this season, saying that he thinks the physical changes Jaime's gone through will not please Cersei because "In her mind, he was the strongest soldier, the strongest man and he could always protect her." As for Jaime, he says:
For him, it's been a very traumatic trip. But he's been wanting to get back to this woman for the duration of his trip. You want to just go back to the way it was. But it's not that easy. A lot has happened in her life as well.

. . . I think he loves her more. It's always been unbalanced, and that's never good. Most of us have been in that situation where you've been falling in love with somebody who didn't feel the same way. It's not a nice situation. We did this panel and Lena said something interesting. She said at a deep level, she wants to be him. She likes the game of thrones, but her life is about doing what her dad wants her to do.
As for Brienne, Coster-Waldau says that she acts to remind him of how he's changed, despite him wondering if he can go back to what he was. He also says that he believes that Jaime has no romantic thoughts towards Brienne, saying that he's "monogamous." [Entertainment Weekly]
---
Once Upon a Time
Executive producer Adam Horowitz says that Sunday's death was a final one:
He is really dead. The decision was one that was not made lightly. Eddy and I, as we've been developing the larger story of Once beyond each individual episode, saw where it was going. Earlier this year, when we realized this is the time that Neal would die, we talked to Michael Raymond-James. We all discussed how to best do this. We did our best. We thought that Michael was brilliantly emotional and amazing on Sunday night as we brought that character's life to an end.
His co-executive producer Eddy Kitsis did say that they were hoping to bring Neal back in flashback. They both seemed in the camp that Emma will put romance (even with Hook) on hold to deal with her son, hunting the Wicked Witch, and dealing with the death of Neal.
The two EPs also commented on what might happen if Henry gets his memories back:
Kitsis: If that happens, Henry will understand that his memories were like everyone else's. There is no way to bring them back or else they would do it. While he will feel sad about Neal, he will understand that his father sacrificed himself for everyone, so it'll be bittersweet. He'll understand that his dad was a hero, but he will, like all people when you lose someone you love, mourn him.

Horowitz: It's a sad thing, but it's coming full circle for Henry. In Season 1, Emma told Henry that his father died a hero, and it was a lie. Now, in Season 3, she gets to tell him again, and it's the truth.
[TV Guide]
Here's the promo for episode 3.16, "It's Not Easy Being Green." [via SpoilerTV]
---
Extant
The upcoming CBS show starring Halle Berry as an astronaut dealing with coming home after a year in a space has added a guest star. Joshua Malina will play Dr. Scott Beck, the lead doctor in an emergency room who is "known for his blunt bedside manner." As Beck, Malina will deliver "chilling" news to Berry's Molly Woods. [E! Online]
---
Resurrection
Here's the promo for episode 5, "Insomnia." [via SpoilerTV]
---
Beauty and the Beast
Episode 2.20 will be called "Ever After," written by Vanessa Rojas and directed by Steven A. Adelson. [SpoilerTV]
Additional reporting by Charlie Jane Anders and Emily Stamm