We put two of the heavyweight video streaming services head-to-head in all the key categories that matter to see which one comes out on top: Netflix and Amazon Prime Video (or just Amazon Video). So which service is most worthy of your monthly subscription?

---
Prices and devices
There are three Netflix plans available right now. $7.99 a month gets you Basic Netflix, with no HD and 1 stream at a time; $9.99 a month is the Standard level, with HD and 2 streams; and $11.99 a month is the price for Premium, with Ultra HD content and 4 simultaneous streams across your devices.
As for supported devices, you can get Netflix just about everywhere: the web, iOS, Android, Apple TV, smart TVs, Rokus, games consoles... it's hard to find a bit of kit that Netflix won't work on, and there's an exhaustive list online.
G/O Media may get a commission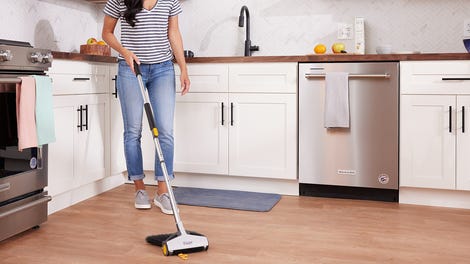 BOGO 50% Off
Flippr - BOGO 50% Off
Amazon Prime Video, meanwhile, is bundled with a Prime membership ($99 a year or $10.99 a month), which gives you access to a limited amount of 4K content (if you're watching on a Fire TV device) but only one stream at a time. In many parts of the world you can now also sign up for it separately for a slightly lower monthly fee.
In terms of device support, the list isn't quite as long as the one for Netflix. Most smart TVs are supported, as well as iOS and Android, but there are no apps for Apple TV or Android TV (unless you use workarounds).
---
Content and originals
Exactly what you can watch on Netflix and Amazon Prime Video depends on where you are in the world and what month it is, so it's hard to come up with a definitive list.
According to the Video Advertising Bureau, earlier this year Netflix was offering 6,155 movies and 2,604 TV titles, compared with the 18,163 movies and 2,017 TV titles on Amazon Prime Video.
Confusing the issue further though is the iTunes-style component built into Amazon's offering—not everything you see on Prime Video is available to watch for no extra charge. Some of the latest films can be bought or rented for a fee, as on iTunes, which helps to explain the large discrepancy.
If you're having to choose between these two platforms the best option is to sign up for the free trials of both and look for your favorite shows and flicks. Even then though, there's no guarantee the content will stick around.
Comparing original shows made by Netflix and Amazon themselves is easier. Netflix has the likes of House of Cards, Orange is the New Black, Stranger Things, Master of None, The Crown, Jessica Jones, Luke Cage, Black Mirror, Arrested Development and the recently restarted Gilmore Girls.
On the Amazon side there are shows such as The Man in the High Castle, Hand of God, Bosch, Goliath, Transparent, and of course The Grand Tour. The list isn't quite as impressive but it also locks down various exclusives now and then, like Mr. Robot.
---
Interface and apps
Wherever you watch Netflix, it follows the famous Apple mantra of just working. The navigation screens are slick and intuitive, the playback screens are simple but have all the options you need, and it's a service you can click (or tap) around with much thought.
Amazon Prime Video is more cluttered, particularly in terms of browsing for content—as you might expect if you've been shopping on the Amazon website lately—and getting back to something you've watched in the past, for example, can be frustratingly tedious.
When you get to actually watching something, Prime Video is more impressive. Simple pause, fast forward and rewind buttons are always available, and the X-Ray feature is a handy way of getting information about actors currently on screen.
Both platforms offer solid, reliable streaming across multiple devices—at least based on our testing—with a minimal amount of buffering and bugs.
As for mobile apps, and apps for smart TVs and other devices, it's a similar story. Both Netflix and Amazon Prime Video feature well-designed, functional playback screens, though Amazon's apps can be harder to navigate around and more clunky in general. Not exactly a dealbreaker, but Netflix leads the way in this department, and has an interface that's more consistent across devices.
In addition, both services now offer downloads for offline viewing, though the content you can cache will depend on your region. In the past it's been a reason to opt for Amazon Prime Video, though Netflix has now caught up.
---
In conclusion
Right now you'd struggle to make a case that Amazon Prime Video is better than Netflix, whether that's in terms of its original programming, its ease of use, or its availability on pretty much any device.
On the other hand, Amazon's offering is cheaper (if you have Prime), adds the option of renting and buying more recent movies and shows, and is a fantastic added bonus if you're already a Prime member. If it has your favorite stuff then you really don't need Netflix.
We'd also note that Amazon Prime Video is improving and expanding all the time as well. It added features such as offline viewing first, and is obviously intent on catching up with Netflix as quickly as possible.
Ultimately though Netflix is still the video streaming service everyone's trying to beat, with its growing number of 4K titles, smooth and stable streaming, and multiple user support. If it can start to grab hold of more content again then it should remain the leader for some time to come.