Oscar Isaac talks Apocalypse's powers in the next X-Men film. David Duchovny says he's on board for the X-Files revival... with one condition. Sources claim Sinister Six is filming soon. Game of Thrones finally casts a character for a pivotal flashback scene. And Ray Palmer will visit The Flash. Spoilers now!
Top image: Batman v. Superman
Justice League
New rumors are circulating that draft of the first Justice League movie is that the script is so good that the people who have read it are concerned that it's too long/too complicated for the average audience member. Basically, comics fans could follow it, but not everyone else. The other interesting bit of information is that the codename for the movie is currently Justice League: Brainiac's Saga, with the film going the New 52 route and having Vril Dox as Braniac. And apparently Brainiac will carry through into the second League movie as well. [Tech Times via Movie Web]
---
X-Men: Apocalypse
Oscar Isaac talked about the powers he'll have in the film, hinting that the costume is going to be less important given the nature of that power:
(The costume) hasn't been figured out yet, but one of his major powers is being able to change all the molecules in his body. So I'll be changing all the molecules in my body… It's gonna be a lot of fun.
G/O Media may get a commission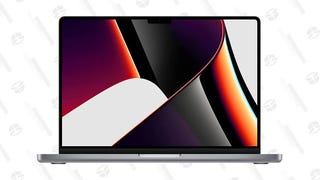 Save $300
2021 14" 1TB MacBook Pro
[Coming Soon via Super Hero Hype]
---
Ex Machina
Writer-Director Alex Garland explained two themes woven together in the film:
There's two concurrent things going on. One is about AI consciousness, because any discussion about AI becomes about human consciousness very quickly. The other is an argument, really. It's partly an argument about the objectification of women in a particular way. In this sense, it's a literal objectification.

Eva's not actually a woman. She's a machine that does not have a gender. So the question is, why is she presented as a girl in her early 20s? It's because we fetishise girls in their early 20s. In a particular kind of way. Sometimes you read about that being shunted onto the media: advertising does it, film does it. It's bullshit. It's passing the buck. We all do it. Men do it and women do it. Right?

The reasons we do that are complicated, and I could make guesses as to why it is. But what seems to be beyond debate is that it does actually happen. And there are various tricks - games being played within the film. One of them is that the process that is happening to the young man who appears to be the protagonist of the film, is also happening on the audience. And if he goes down that path and we follow him down that path, which is the intention, what should happen - it's hard to talk about this without blowing the movie - but the means by which that happens necessitates that Eva be presented as a girl in her early 20s.
---
Sinister Six
Tweets from Vancouver seem to indicate that filming is going ahead as planned. The tweets appear to be gone now, but they read, "It seems the #SinisterSix movie is going to shoot in Vancouver. I might see Spider-Man running around my hood! I'll eat sand to be an extra" and "@Mugsyface dude who worked on Planet of the Apes and used our stock for it came back. Requested S6 stuff for research. Said it was happening." [Comic Book Movie.com]
---
Resident Evil: The Final Chapter
Milla Jovovich has confirmed on Facebook that they'll be filming starting in August:
I'm really proud of myself for not gaining the same amount of weight that I did with our first child (75 lbs.) because I have to be ready to start filming 'Resident Evil- The Final Chapter' in August of this year and I will also be nursing an infant simultaneously.

[Facebook via Shock Till You Drop]
---
Pirates of the Caribbean: Dead Men Tell No Tales
Kaya Scodelario (Skins) is in early negotiations to play the female lead in the fifth Pirates of the Caribbean movie. [Deadline]
---
Game of Thrones
Jodhi May is reportedly playing Maggy the Frog, and will appear in the Cersei flashback we've been expecting since the casting of a young Cersei. Joining May and Nell Williams as young Cersei is Isabella Steinbarth, as a young Cersei's brunette friend. She's likely playing the TV show version of Melara Hetherspoon. [Watchers on the Wall]
The trailer for the IMAX showings of episode 4.09 and 4.10 has been released, and with it the first glimpse at season five — which is queued up in below. [via Watchers on the Wall]
There are also shots of a set that appears to show Jon Snow leading a raid on a wilding village, but it's also a similar location where Catelyn met Ser Vardis Egan. Granted, quarries are traditional locations for filming, and the show's reused sites before. It's more likely that this is the site of the giant battle scene that's been hinted at in interviews. More photos at the link. [Watchers on the Wall]
---
The Walking Dead
SpoilerTV has confirmed that the title for the spinoff is "Fear the Walking Dead." Here's the show synopsis, which you can compare the supposed script:
The spinoff takes place during the same zombie apocalypse depicted on The Walking Dead but in a different location. It revolves around Sean Cabrera (Curtis), a divorced teacher and Nancy Tompkins (Dickens), a female guidance councilor. Dillane plays the Nancy's son Nick, who has battled a drug problem. Debnam Carey, plays the Nancy's ambitious daughter Ashley.
The Spoiling Dead Fans have photos of "the gin property/ASZ" set. [The Spoiling Dead Fans]
---
Arrow
John Barrowman commented on Merlyn spending more screen time with characters he hadn't interacted with before:
Well, now, yes [he does spend time with them]. That's also what's interesting about this series is things have turned 360, and we're kind of putting things on their head a little bit. There will be alliances formed that haven't been formed before. There will be enemies that are revealed that haven't been revealed before. There will also be relationships — I say "relationships," but there's words that are going to come out of some people's mouths that people are going to go, "What?!"
---
The Flash
We'll see Felicity and Ray Palmer in episode 18, "All-Star Team-Up." Teases EP Andrew Kreisberg:
In episode four of 'Flash' when Felicity came by, it wasn't just a gag to have Felicity come by. It really was integrated into the story. When you reach what's going on in 'The Flash' at that point in the season, Barry is really at a crossroads. Having Felicity come by exactly when he needs her really plays into the whole storyline. It's fine because as Marc said, Ray Palmer is all about technology and STAR Labs is all about technology. We get to see Ray so happy to be in STAR Labs… With Cisco [Carlos Valdes] and Ray, they're new best friends. The STAR Labs team is going to help Ray further his ATOM project.
[Variety]
---
The X-Files
David Duchovny has responded to Fox's desire to bring the show back, telling USA Today that he's "more than happy and excited to bring it back and do it again with Gillian (Anderson) and Chris (Carter)." He added:
I'm assuming that it will happen sooner rather than later now. We'll see what form, how many (episodes). Certainly I can't nor would I be interested in doing a full season. It will be in some kind of limited form. We're all old, we don't have the energy for a full season.
---
Red Mars
J. Michael Straczynski has been picked to write the script for the adaptation of Kim Stanley Robinson's Red Mars for Spike TV. [Deadline]
---
Doctor Who
Director Hettie Macdonald ("Blink") will return to direct an episode in the upcoming season. [Doctor Who]
---
Gotham
Bruno Heller outlined a little bit of what's to come the second half of this season:
Well, Morena Baccarin, playing Leslie Thompkins, has arrived. She's going to be a big figure in Gordon's life. We're going to see a slow but dramatic change in the Riddler story. Ed is going to be confronted with some serious troubles that start changing his character in a very profound way. I think for Gordon, even as he starts, to a degree, conquering the politics of the GCPD and acquiring the kind of power and leverage he needs to make changes, his personal life and his moral balance are on much shakier ground. So I think towards the end of the season, you're going to see someone who is at the height of his career, but personally at a very low ebb — or at a very dangerous ebb.

Here's the thing — which I'm not used to because I've been working previously on "The Mentalist," where you can kind of tell people the whole season and you're not giving anything away really, because it's, hey, we're going to solve crimes. With this, I'm very careful, I don't want to give away too much story because, more so than most shows, this is the joy of story, the joy of storytelling, the joy of hearing stories. And that's the DC Universe. Anything can happen. The unexpected with happen. The tragic will happen. The funny will happen.
He also answered a question about seeing the characters in costumes:
That's a good question. Especially now that we have a pick up, I always take a long-term view of a show. I'm looking at several years. So we're in no hurry to [do that] — there's going to be an episode that involves the Red Hood, which picks up that strand, the costume strand, and sort of gives a kind of philosophical base, if that's not too pretentious a word. Why costumes? What's the power of costumes? What's the power of a mask? All of that groundwork will be laid sort of culturally for that side of the DC Universe before we start rolling into the more spectacular spandex type of deal.

Because — I can't remember where I read it — the reason that the comic book characters wore costumes is because in the very rough printing that they used to have in newspapers, that's the only way you could make a character pop. "Oh, that's Batman, that's Superman, that's Dick Tracy." On TV, you don't need that same color and signature to make people pop. It's the characters that pop. So we're never going to be a full-on costume drama. We're going to be a full-on character drama. Like Batman, there's the super powers, super will, and there's super strength, but only on a human level. Not on a supernatural level. It's very important, again, for the longevity of the show, that we take this step by step.
---
Apocalypse
More details about Rob Lowe's apocalypse dramedy have come out. Also joining the cast are Jenna Fisher and Megan Mullally. The show will have "a foul-mouthed priest (Lowe), an unhinged white supremacist, a meek bank manager, a germ-phobic cyber-terrorist, a five-star general and a child who (possibly) rose from the dead." The show, which follows an extended family as a comet hurtles towards earth, is a collaboration between NBC and Sky One. [TV Line]
---
The 100
Lindsey Morgan revealed how Raven's feeling about Clarke since Finn's death:
She's not happy with Ms. Griffin. Sure, [Finn] was the love of [Raven's] life, but he was also her only family. He was all she had, and Clarke knew that. It almost makes it worse that Clarke and Raven had finally become friends; can you imagine your friend killing your family. If Clarke killed Bellamy, how would Octavia feel? They only have each other. It's such an unforgivable act in Raven's eyes.
[TV Line]
---
12 Monkeys
Here's a sneak peek at episode two:
---
Helix
Here's a sneak peek at episode 2.02:
---
Powers
Here's a new poster. [Den of Geek]
---
Grimm
Go here for photos from episode 4.12, "Maréchaussée." [SpoilerTV]
Additional reporting by Charlie Jane Anders and Abhimanyu Das