Is there another surprising arch-villain in Batman v. Superman? Steven Spielberg's movie of Roald Dahl's The BFG gets a release date. Michael Bay explains why he returned to the Transformers world for a fourth movie. Plus just how good is the Gotham pilot?. Spoilers now!
Top image: Avengers: Age of Ultron concept art
Avengers: Age of Ultron
Cinema Blend has a new video, which shows what looks like a training facility in which a bunch of new recruits for the Avengers (or SHIELD) are training. Their blue uniforms appear to be inspired by the First Avenger, Captain America. Also, Thor raises Mjolnir in the air — preparing to call down the lightning, or fly away. And Comic Book Movie claims that Anthony Mackie (The Falcon) and B.J. Britt (Agent Triplett from Agents of SHIELD) were both on set. Check out the video at the link, but below are a couple of GIFs from Cinema Blend, plus a couple of Instagram photos. [Cinema Blend and Comic Book Movie]
G/O Media may get a commission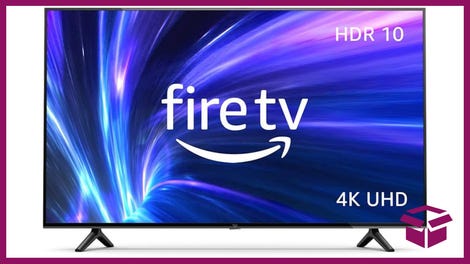 42% Off
Amazon Fire TV 50" 4K Smart TV
---
Guardians of the Galaxy
Here's a new official image of Djimon Hounsou as Korath. [Coming Soon]
---
Batman v. Superman: Dawn of Justice
Last week, The Wrap's Jeff Sneider tweeted an "agency grid" which listed the cosmic villain Darkseid and psychic arch-manipulator Max Lord as both being in this movie. Also surprisingly on the list: the Martian Manhunter, a character whom writer David S. Goyer has cast aspersions on before. [Worlds Finest News]
Not surprisingly, the film appears to be hiring a ton of extras to play workers at the LexCorp headquarters. [MLive]
---
Avatar 2, 3 and 4
A new article in the New York Times talks about the "yearslong effort" to build out Avatar into a universe that will spool out over the next 20 years in various media, including books and movies, but also other formats. And there's confirmation of who's writing which of the three upcoming films:
The first sequel... will be written by Rick Jaffa and Amanda Silver, a husband-and-wife team known for their work on "Rise of the Planet of the Apes." The second, he said, will come from Josh Friedman, who worked with Lightstorm on the television series "Terminator: The Sarah Connor Chronicles." The third is being written by Shane Salerno, who also worked previously with Mr. Cameron, and who was already blocking out his "Avatar" script while promoting the release of his documentary "Salinger" last year.
---
Transformers 4: Age of Extinction
In an interview, Michael Bay talked about how the world of Transformers let him do a very different style than he's done before:
I showed the film to Steven [Spielberg] this weekend and he said, "It's such different action than you've ever done!" We try not to be repetitive, and the unique thing about Transformers is that it can be anything. With Bad Boys, the characters are cops, so what can you do action-wise? You've got the water and you've got police cars, but it's always only stuff that cops can do. Whereas with Transformers you can have an alien ship, you can have something transform into something else. Their world is really vast. Like in this movie, we have Dinobots!
He also talked about why he was willing to come back after hinting that the third movie would be his last:
Well, the way I look at it is that this isn't the fourth time around: It's the first time with a new franchise. Age of Extinction feels very different, while still keeping the history of the franchise intact. I wanted this one to be more cinematic and have a slower pace at the beginning to try and get into the human characters before it gets into this chase from hell and grows bigger and bigger. I also felt like it would be such a massive undertaking for a new director to come in and reinvent everything in terms of the design process, as well as the sheer volume of creating new characters and an idea for where the series was eventually going to go. It would have taken someone [new] three years instead of two. And then I was inspired when I saw these three-hour-long lines in Orlando and Singapore for the Transformers theme-park ride. I thought, "You know what? I think I gotta do this one more time."
More from Bay at the link. [Film Journal International]
---
The BFG
After he finishes an untitled spy film, Steven Spielberg will work on the previously announced live-action adaptation of Roald Dahl's The BFG, with its release date already set for July 1, 2016. [The Hollywood Reporter]
---
Dracula Untold
Here are the international and domestic posters for the new film, as well as a shot of Luke Evans as Vlad, who starts as a man just trying to protect his people and his family, before a dark pact sets him on the pact to become the Dracula we all know. [Coming Soon, Total Film]
---
Gotham
The pilot's getting pretty good buzz already, with Give Me My Remote's Marisa Roffman calling it a "gorgeous show" and TV Equals' Sandrine Sahakians saying that it's "fantastic" and that "the trailers don't do it justice." Hitfix's Daniel Fienberg agreed about the trailers, tweeting that "It's well-cast, top to bottom, and the production values play higher in context than they do in the trailer." However, he was a bit less complimentary about the film, adding "I can't shake the feeling there are a lot of unfulfillable promises in Gotham. But... good pilot."
MTV singled out Robin Lord Taylor's portrayal of Oswald Cobblepot for praise and stated that Sean Pertwee's Alfred is in the mode of Geoff Johns' Batman: Earth One. No real surprise here, given the set up, but MTV also made clear that the show is more of a procedural than a straight-up comic book show. [Den of Geek]
Speaking of that cop procedural set up, Donal Logue says that the show is "more noir, kind of a detective feel" and that his Bullock is going to be walking that good cop/bad cop line all on his own:
I'm sure [in the middle of good and bad is] exactly where we're going to play it. I can't imagine it being that different. I mean, the thing is, there's been a few incarnations, but that's where I think Harvey's always been. Ultimately, he has revealed himself to be a little bit of a fearless, good cop at heart. I'm fairly cynical. I believe a bit in moche politique — you kind of have to get in bed with the devil. I think that's who he is. It's absurd to be that idealistic if Gotham is the Jungian shadow of the world, you know what I mean? So of course, it's up to Bruno. it's up to Danny Cannon where the individual storylines are going. After seeing the pilot, you see how my relationship with Jim Gordon will be tested when I'm like, "I was right, by the way, in that you have to do bad things in war to achieve bigger, better things. Can you do this?" "Yes." And does he or does he not? Ultimately, a lot of people suffer when people wuss out, which is what's going to happen, I think.
---
Defiance
In a conference call, executive producer Kevin Murphy discussed all the ways that season 2 will lead off from season 1, saying:
And Season 1 was about this idyllic little Oz like happy world went through the wringer. And by the end of the season, Datak, through a very good move on his part, he let his vanity get the best of him and the poor, sad bastard, he got his goal of being mayor—and he got to keep it for about 15 minutes before they let him stab the Colonel. And that gave the Earth Republic the pretext that they were waiting for to swoop in and take over.

So now we're looking at an occupied territory, and it becomes a very different show. And it becomes, how did the members of our cast deal with the fact that everything has been taken away from them?

And if you remember the end of Season 1 the last episode was called, 'Everything was Broken,' which is the name for the Bob Dylan song. And that's where we come in. Nobody is where we left them.
He went on to detail the circumstances all the characters find themselves in:
Nolan is no longer lockkeeper. Irisa is no longer completely in control of her own mind. Rafe McCawley no longer has a mine and he's going to lose more as the season goes on.

Datak is no longer charged. Doc Yewll is no longer the town doctor. Amanda is no longer Mayor.

Stahma is the one person who is no longer a housewife, but she kind of likes that, and she no longer has her husband.

Alak no longer has the luxury of being a spoiled rich kid and he's actually called upon to be the—at least the symbolic—head of the crime family.

Everybody is at a place of crisis and change and trying to figure out how they're going to put their lives back together. And that's basically the story of Season 2, you know, watching who succeeds and who falls."
---
Haven
Added to the cast in recurring role for season 5 is Laura Mennell (Alphas), who will play Dr. Erin Reid, an epidemiologist from the Centers for Disease Control and Prevention who is afraid that the town is on the brink of a deadly outbreak. Described as "a force to be reckoned with" who "unknowingly uncovers a genetic marker found only in Troubled people." [TV Line]
---
Utopia
The second season of Channel 4's supernatural conspiracy show is coming in July, according to the show's official Twitter account.
---
Orphan Black
Go here for more photos from the season 2 finale, "By Means Which Have Never Yet Been Tried." [SpoilerTV]
---
The Strain
Here's the press release for the premiere:
Episode 1.01 - Night Zero

(Airs July 13, 10:00 pm e/p)

When a plane lands in New York City with everyone on board dead, Dr. Ephraim Goodweather, head of the CDC's Canary Project, and his team are called upon to investigate. Harlem pawnbroker Abraham Setrakian races to the airport, convinced that what looks at first like a mysterious viral outbreak might be the beginning of something infinitely more sinister.

Written by Guillermo del Toro & Chuck Hogan; directed by Guillermo del Toro.
---
Penny Dreadful
Here are the promo and two clips from this week's episode, "Possession":
---
Beauty and the Beast
Go here for more photos from episode 2.21, "Operation Fake Date." [SpoilerTV]
---
The 100
Here's a banner for season 2. [SpoilerTV]
Additional reporting by Charlie Jane Anders and Madeleine Monson-Rosen