The extraordinary 2017 hurricane season continues apace this week, as Ireland braces against the remnants of hurricane—yes, hurricane—Ophelia, whose fierce winds reached the country's southern coast Monday morning. Ophelia astounded meteorologists on Saturday when it intensified into a Category 3 hurricane farther east than any other major hurricane in history. While Ophelia weakened as it traveled north, transitioning into an extratropical cyclone late Sunday night, it's still one of the most powerful storms to menace Ireland in at least the last fifty years.

The obvious question: How the hell did we get here?
A combination of abnormally warm waters and favorable atmospheric conditions seem to be responsible for this remarkable storm. The waters that supported Ophelia's intensification into a major hurricane on Saturday were only about 25°C (77°F), which is below the standard meteorological benchmark for the formation of tropical storms. It's thought that waters of 26°C or higher are needed to drive enough sea surface evaporation to form thunderstorms, the building blocks of hurricanes.
But while Ophelia's waters were tepid by tropical storm standards, they were still about 2°C (3.6°F) above average for their location for this time of year. And they were complemented by cooler-than-normal temperatures higher in the atmosphere. This temperature/humidity gradient, or "instability," is necessary to help tropical storms get organized.
G/O Media may get a commission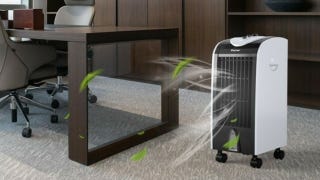 Save $10
Evaporative Portable Air Conditioner Cooler with Filter Knob
Ophelia had a few other atmospheric factors working in its favor, including low vertical wind shear. Wind shear, or a change in wind direction with altitude, tends to tear down storms. What's more, as Weather Underground meteorologist Bob Henson noted over the weekend, Ophelia featured a strong outflow jet along its western flank.
"Often, with intense hurricanes, you've got a branch of the Jet Stream that's close but not too close," Henson told Earther. "If it's right above the hurricane, it can be destructive, but if it's adjacent, it can help ventilate the storm."
Thanks to this combination of factors, Ophelia was able to attain major hurricane status way northeast of where powerful Atlantic hurricanes typically form. A plot tweeted by University at Albany atmospheric science student Philippe Papin over the weekend shows just how much of an outlier this storm is:
As Ophelia marched northwards into cooler waters on Sunday, it was downgraded to a Category 1 hurricane. Late last night, the National Hurricane Center announced that Ophelia had transitioned into what's known as a post-tropical cyclone, with a strong cold core instead of the warm core characteristic of hurricanes, and a broader wind field. That was before Ophelia flew clean off the NHC's prediction map.
Now, this post-tropical beast is bearing down on Ireland. According to Met Éireann, Ireland's meteorological service, hurricane-force gusts of up to 156km/h (97 mph) started hammering the country's southwest coast this morning. Met Éireann has issued a "Red Alert" for the entire island, warning that "violent and destructive gusts" are expected countrywide.
"The worst of the winds which have been over Munster this morning, will quickly extend to the rest of the country this afternoon," Met Éireann writes. "Spells of heavy rain or thunderstorms in places also and storm surges along some coasts will lead to flooding."
120,000 people are already without power, according to the Irish Times.
The UK's Met Office has issued an "Amber Alert," its second-highest alert level, for parts of Northern Ireland and western England, which are expected to see powerful winds this afternoon and evening. By Tuesday, Ophelia should be dissipating off the western coast of Scandinavia.
While the location that Ophelia formed in makes it an outlier at least as far back as we have records, it's not unprecedented for the remnants of a hurricane to hit Ireland. Examining storm records back to 1851, the Washington Post's Capital Weather gang identified 45 "one time tropical systems" that passed over or very close to Ireland. Henson said the most comparable storm is Hurricane Debbie (1961), which caused major damage when it brushed Ireland's west coast as a Category 1.
"These storms happen, but they're still pretty unusual," he said.
During its northward march, Ophelia also delivered strong winds to Portugal, helping to fan a spate of devastating wildfires that broke out over the weekend, reports the New York Times.
With Ophelia, the Atlantic has racked up six major hurricanes this season, tying it with 1933, 1961, 1964 and 2004 for most major hurricanes through October 14th, according to tropical storm scientist Phil Klotzbach. Only two years, 1961 and 2005, have seen seven major Atlantic hurricanes.
And we've still got more than a month of hurricane season left.