Since Donald Trump was declared the President-elect early Tuesday morning, cities across the United States have seen daily protests, including Boston, Washington DC, and Portland. But after last night's New York City protest outside Trump Tower, an eerie but familiar image of an NYPD officer obscuring his identity emerged.
The photograph, originally taken by Ellen Moynihan for the New York Daily News, depicts an NYPD member with a black band over his badge, full face mask, and dark sunglasses over his eyes despite it being nighttime. The caption below Moynihan's photo states, "some have criticized the police for covering their faces, although the NYPD said it's in compliance with department rules." Moynihan told Gizmodo that the officer in question's "badge # is 8545."
In an email to Gizmodo, the Office of the Deputy Commissioner of Public Information wrote, "The black tape is a mourning band that was for a NYPD Sergeant who was killed in the line of duty." The DCPI added, "It is not illegal." Presumably, the fallen officer in question is Sgt. Paul Tuozzolo, who was shot and killed in the Bronx last week. The black strip appears to conform to the protocol listed on the Officer Down Memorial Page for a mourning band.
Laws regarding officer's requirements for on-duty badge visibility vary greatly from state to state. Badge-covering is illegal in California, but the tactic was reportedly employed by officers trying to clear Occupy camps in Oakland. The New York Times also reported back in 2009 that "duping"—the illegal practice of officers wearing counterfeit badges, with or without the correct badge number, to avoid fines for losing the genuine item—has been widespread among the NYPD since the 60s. In many states, officers are not required to give their name or badge number if asked.
More alarming though is this officer's choice to obscure his face with a mask and sunglasses, a practice which is clearly prohibited by the NYPD Patrol Guide. On page 153 of the massive 2040-page document, under "optional uniform items" is states a "cold weather hood" must be (emphasis ours):
Black, made of a thin fabric such as Polar-Tec, silk, micro fiber or fleece, which fits close to the head, fully exposing the face and presents a trim appearance, without bulk, when the uniform hat is worn over it. This hood (known as a "balaclava") is authorized for members of all ranks performing patrol duties outdoors. To be worn only when temperature falls below 40 degrees Fahrenheit.
G/O Media may get a commission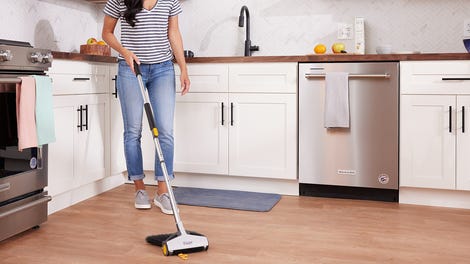 BOGO 50% Off
Flippr - BOGO 50% Off
Not only is the officer's face completely obscured, but temperatures in NYC have not dipped below 40 degrees during the month of November. While a partially obscured badge does not appear to exemplify misconduct, a full face mask and dark sunglasses does. It can only be concluded this officer made an intentional decision to make his identity difficult to determine. The DCPI did not respond when asked specifically about the Patrol Guide and this officer's decision to ignore it.
A single masked officer does not imply widespread misconduct, but it is a harbinger of things to come. Anti-Trump protests in Portland were already declared "riots" by police, who arrested 26 people while pelting the crowd with rubber bullets and teargas, as NBC reported.
The Huffington Post notes that David A. Clarke—Sheriff of Milwaukee County, Wisconsin and Department of Homeland Security secretary hopeful—denounced the protests as "temper tantrums" from "radical anarchists," echoing sentiments made by the President-Elect that such protests are "very unfair."
It bears reminding that citizens' right to free speech and assembly is protected under the First Amendment, despite whatever President-elect might suggest:
We reached out to the Southern Poverty Law Center and NYU Law for comment and will update if we hear back. The New York Civil Liberties Union, in reviewing the photo, wrote to the following to Gizmodo:
We can now expect four years of demonstrations in New York City, and the NYPD needs to redouble its commitment to respecting the right to protest. Police officers cannot be hiding their identity, and the department needs to make this very clear.
Trump supporters may find these protests disrespectful. But what we as a country—regardless of political leanings—should be concerned about is the disrespect our elected officials are showing towards our constitutional rights, and the anonymized police officers' shirking accountability.
Update 11/13/16 11:05am EST: According to Salon writer Craig Wolff, NYPD officers at Wednesday's protests were given arrest quotas to meet. We've reached out to DCPI for further information on the matter.
Update 11/14/16 4:23pm EST: DCPI responded via email to say "The New York City Police Department does not adhere to a quota system."