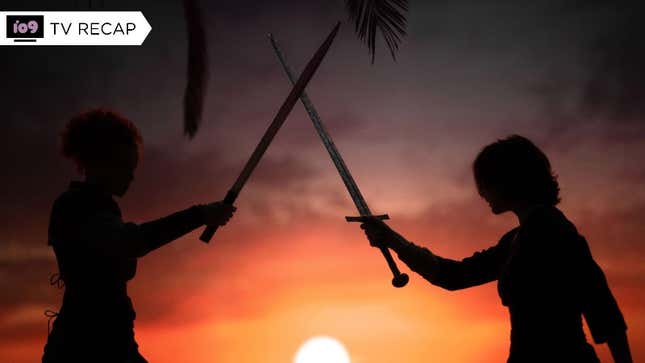 The penultimate episode of Willow is here and we think it's the best one yet. If you've watched any genre TV in the past decade, that makes sense; the second-to-last episode is usually the best. It's when everything the audience has been invested in or waiting to see comes to a head, ending right on the edge of that one final thing leading into the finale. And so too was the case with the seventh episode of Willow, which features every character's breaking point and ultimate evolution—as well as so many awesome training montages, Rocky would be proud.
Biggest Questions After Watching the Original Willow

From the very first episode, we've known the quest Willow and the group are on would take them beyond the Shattered Sea. So the episode being called "Beyond the Shattered Sea" gave you a good idea this whole quest to save Prince Airk is coming to an end.

But first, there were two cliffhangers to clean up from last week. The first was this mystery woman (played by Game of Thrones' Rosabell Laurenti Sellers) who randomly showed up in the Immemorial City with Airk. She explains she's from the city of Cashmere, one of the Realm's major cities, and shuts down Airk's creepy flirting. Before it gets too awkward though, Airk sees his sister Kit in a rust-colored pool of water. And so he dives in, reaching out to her—and the screen flips, and now it's Kit's perspective. We last saw her stuck under the ground of Skellin and she's still there. She reaches out to her brother and almost grabs him, before Elora's spell finally works and frees her.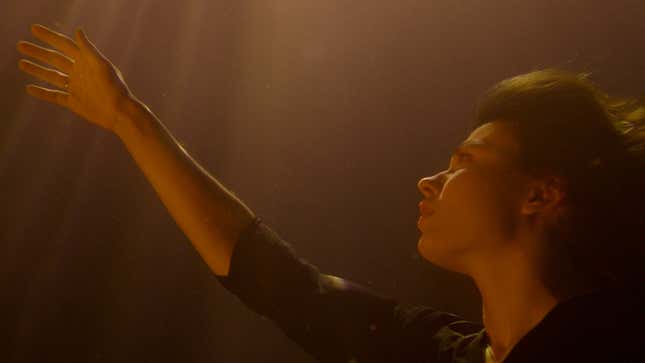 Kit and Willow have finally been rescued, Boorman has secured the Kymerian Cuirass, and the journey can continue. Or can it? Beaten, bruised, and tired, the group has finally reached the Shattered Sea, where all the maps end. Willow explains they'll need to walk the rest of the way but Kit is too sick. They need rest, and wouldn't you know it? There's an inn nearby.
The inn is run by a man named Zeb, played by Lucasfilm legend Julian Glover. (He was the evil Walter Donovan in Indiana Jones and the Last Crusade, which marks about the fifth direct Indiana Jones reference we've seen across the show.) Zeb offers the crew food, shelter, and even a ride in the form of a creature called a Mudmander. He also explains how he's been at the Shattered Sea for so long he can't even remember why he's there (he rattles off several possible quests, one of which again evokes Last Crusade), and that he doesn't think there's anything beyond the Shattered Sea.
It's just a very weird situation all around, one that seems to reach a boiling point when the group is attacked once again by the Gales. Now, look. The Gales were a super cool foe in the first few episodes but by this point, our heroes have dealt with them fairly easily several times and the suspense is all but gone. Nevertheless, the group takes off on a boat powered by the Mudmander and chased by the Gales. A huge battle ensues, Kit is injured, Graydon realizes he can do magic, and eventually, the servants of the Crone are thwarted yet again. It was probably the best scene involving the Gales so far, with plenty of great moments—but, again, any sense of danger from them is long gone.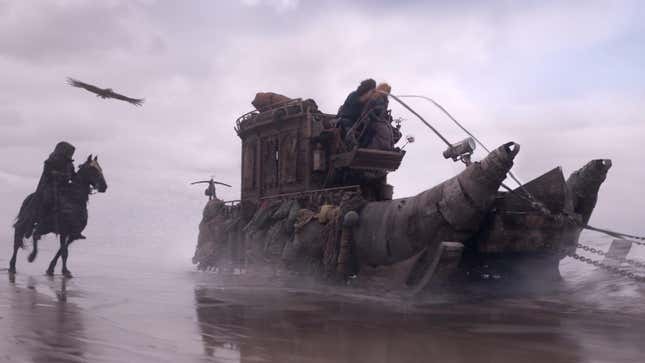 Back in Immemorial City, Airk finds his mystery woman staring at a big bright light. She wants to go into it, believing maybe it's the only way out, but he's able stop her. He's confused though. The city seems to be changing around him and he learns that this woman, like him, is a princess also captured by someone and brought here. The plot thickens, as does trust between them.

After their fight with the Gales, the group stops to rest. Graydon names the adorable Mudmander Kenneth and Willow tells Graydon how impressed he is that he was able to find magic in him. Elora has had it, though. She's done wasting time and tells Willow it's time to train. As she and he exchange a few spells, Kit gets up the energy to spar with Jade too, and it's montage time!
What's better than a training montage? Absolutely nothing... unless that montage involves people shooting cool-looking spells at each other with magic wands. Thanks in large part to the dynamic, 360-degree lighting effects, these Willow scenes made the Harry Potter movies look laughable by comparison and were easily the most beautiful visuals in this entire season so far.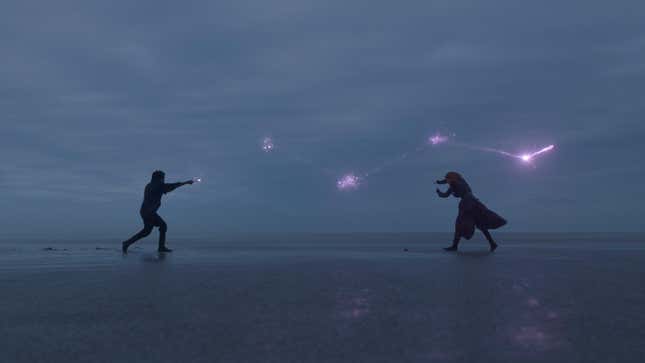 Kit and Jade are also training, but also flirting, and after they tackle each other to the ground, Kit professes her love once again. They start to make out and get what almost felt like a sex edit (which is when you slowly fade away from a passionate kiss, implying the pair are about to do something you can't show in your Disney+ show). Willow continues to challenge Elora to dig deeper, to find parts of herself she doesn't like, and the exercise brings out Elora's most deadly spell yet. You get the sense, when she says she'll kill the witch, she not only means it, she'll deliver.
Back with Airk and mystery princess, she talks about how she was never happy in her kingdom of Cashmere. She doesn't want to be beholden to any rules, and so she kisses Airk. He, uncharacteristically, pushes her off, saying he's truly in love with Dove aka Brunhilda aka Elora, which is when the princess lets it all out. She reveals she's been in the Immemorial City for a long time and, in fact, she's the one who brought him here. Yes, friends, if you had "Mystery Girl Is Actually the Evil End Boss" on your Bingo card, we think you nailed it. It's not explicitly stated, but it seems likes she's the Crone and she slowly begins to drag Airk to her side. He runs, but by episode's end, he's come crawling back and tells her he'll do whatever she wants. What she wants is him to drink from a special cup, which is not a good sign.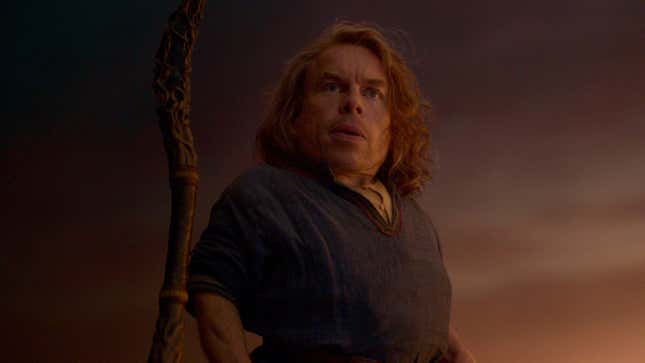 Back on the Shattered Sea, everyone seems to be losing their minds a little bit. Elora and Kit share a moment where they finally connect over their insecurities. Boorman tries to activate the Cuirass, but it doesn't work. Willow has dreams of his daughter, Mims, being grave danger and needing him. He even tries to contact her, only to be visited by a vision of her being infected by evil. His guilt over leaving his family finally gives us an explanation of what happened to the rest of them from the original film. Sometime in the past, while off on another adventure, Willow's wife needed him but he wasn't there. She then died and his son was so mad, he left. This explains Willow's desire to stop the mission and go home. That might actually have happened too, but can't because Graydon let a sickened Kenneth go.
They're out of food and have little to no motivation or energy, but the journey must go on. Elora thinks Willow was right in the first place, they must walk to the end of the journey. And so the unraveling continues. A giant skull on the horizon could be real or a mirage. Graydon tells Elora he loves her and though he knows she doesn't love him back, thanks her for making him the man he's always wanted to be. And then they reach the edge of the world.

A giant waterfall marks the edge of the Shattered Sea and everyone wants to give up. They thought they'd see the city, but it's not there. Elora is especially distraught because this was to be her destiny. To go to the Immemorial City, defeat the Crone, and die. Wait, what? Yup, she knows the vision Willow had all those years ago—the one we've seen several times throughout the series. He's completely broken by both her knowledge of it and the fact he hasn't been able to save her. Emotions are running high and everyone is ready to give up, but not Kit. Kit tells Elora she's never believed in anything her entire life, but she believes in her. And the pair decide they'll continue on together, by jumping off the waterfall as the group watches in shock.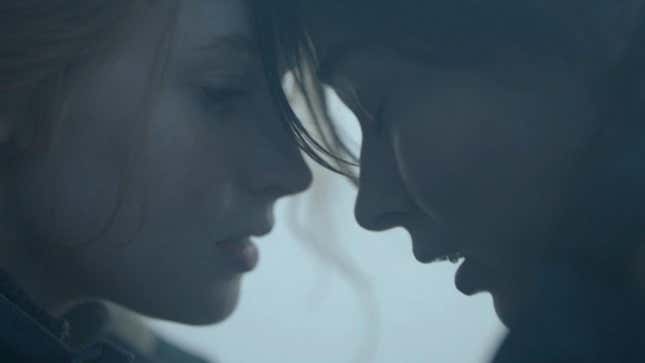 As one might expect, two of the show's leads don't die after the jump. In fact, they find themselves where they want to be: the Immemorial City. Which is when a door opens revealing... Prince Airk. Only, it's not the same Airk they remember. With that, the goal at the beginning of Willow was reached. Kit and Elora have found Airk. But this is an Airk seduced by the Crone, the mortal enemy of Elora Danan. Maybe, in the season finale, the showdown audiences have thought about for 30 years will happen: Elora vs. the personification of darkness.

As I stated at the start, "Beyond the Shattered Sea" is my favorite episode of Willow yet. I've said that a few times on this recap journey but each time, I've meant it. Here it's because not only did we get some super fun action and cool, exciting montages, but each character completed their journey. They're a different person than when they set out at the beginning of the show. The only question is, if these new, more experienced versions of the characters will be able to defeat the Crone once and for all.
There's just one more episode of Willow's first season left. Watch "Beyond the Shattered Sea" here.
---
Want more io9 news? Check out when to expect the latest Marvel, Star Wars, and Star Trek releases, what's next for the DC Universe on film and TV, and everything you need to know about the future of Doctor Who.