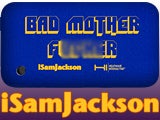 Enter to win one of 20 limited-edition Pulp Fiction-inspired BMF iPhone cases to complement iSamJackson, the bad-ass Samuel L. Jackson iPhone app. Email us at contests@gawker.com with "iSamJackson" in the subject line. 20 lucky emailers will win! [Rules.]
iSamJackson for the iPhone and iPod Touch features 100% original recordings from the one and only Samuel L. Jackson. iSamJackson provides endless entertainment with a unique collection of quotes that offers the attitude and wit of Samuel L. Jackson…in the palm of your hand. When you absolutely, positively have to have the baddest app in the room, accept no substitutes!
iSamJackson is:
—A gigantic collection of 150 original and authentic quotes including humorous adages and sage insights recorded by The Man himself!
—A fully-customizable and extremely entertaining soundboard that lets you harness the awesomeness of Samuel L. Jackson whenever and wherever you need it.
—A personality scanner in which Samuel L. Jackson will tell you, in no uncertain terms, just what he thinks you're made of.
—"Ask Sam," a guide to help you make those tough decisions. Get instantaneous advice from the King of Cool.
—Keep iSamJackson fresh and in style with new downloadable quote packs!
These limited-edition Bad Mother F@#$ers are inspired by Samuel L. Jackson's extremely popular role as Jules Winnfield in the groundbreaking film Pulp Fiction. Don't miss out on a change to be one the select few to own such a unique Samuel L. Jackson collector's item.
iSamJackson is available through the App Store for $0.99. To learn more about the application, click here. For more information about Heatwave Interactive, click here.