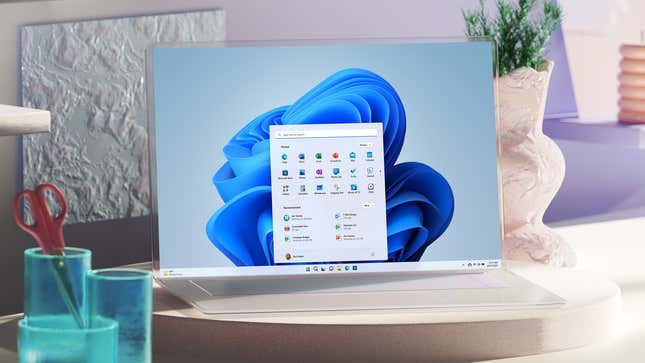 Did you force your PC to install Windows 11 despite it not meeting the official requirements? (Why?) Microsoft might start nagging you for doing that—or at least reminding you that what you've done is against the intended use of its operating system. The January 2023 Windows 11 update is pestering folks who forced the update on their PCs with a persistent watermark on the desktop warning that system requirements haven't been met.

Video Chat - From Sci-Fi to Sci-Fact
The story is circulating among Windows blogs, though I found a couple of instances of folks complaining about the watermark on the official Microsoft support forums. The watermark says "system requirements not met" and is emblazoned on the desktop's lower right hand corner if the operating system notices that it's running on hardware that doesn't meet the minimum requirements.
It's possible the culprit is the dedicated security processor, or TPM 2.0 (Trusted Platform Module) chip, used by services like BitLocker and Windows Hello. Microsoft requires this module before upgrading. It's why many PCs were rendered un-upgradeable when Windows 11 was announced. Most new CPUs and motherboards have capability for it built into them, but the feature wasn't a guaranteed inclusion prior to the Windows 11 launch.
But some users don't care, and can you blame them? Getting a new PC to upgrade to a specific operating system seems egregious in this day and age of extreme penny-pinching and coupon-clipping. And since the Windows community has long been self-sufficient, it's managed to figure out how to force a Windows 11 upgrade onto a PC despite it not having supported hardware.
If you are pushing through to Windows 11 even though your system isn't technically compatible, there's a way to remove the shameful messaging living on your desktop. Back in December, a Microsoft Independent Advisor suggested what many other how-to pages do: change the registry file so that Windows thinks everything is kosher. Note that this has its downsides, like voiding the software warranty on your machine.
I am still holding off on installing Windows 11. I'm one of those who fears change, both in personal matters and with gadgets. After all, why try to fix it if it isn't broken? The setup I have now is quite excellent, and I fear that once I upgrade to Windows 11, I'll have to start over and risk running into new issues. Anyway, I have until September 2024 to keep holding off on upgrading.