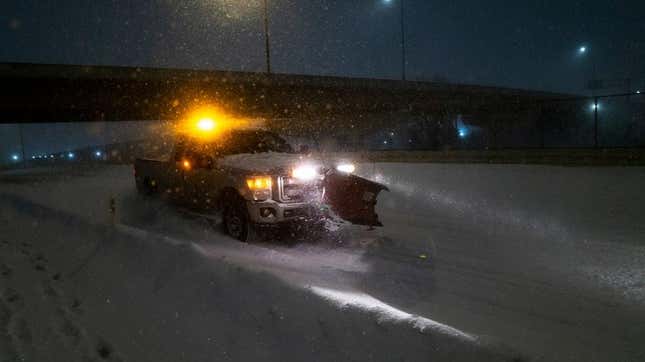 Weird weather has swarmed the U.S. this week, creating widespread travel delays and blackouts for communities across the country.
"This series of low pressure waves that will make up this coast-to-coast winter storm will bring heavy snow and locally significant ice from the Great Lakes into the Northeast," according to a National Weather Service alert. Communities across that region are expected to see an extra 6 to 12 inches of snow. Some might even see 18 inches of snowfall, the alert said.
The NWS predicts significant infrastructural damage in the hardest-hit areas, along with travel delays. More than 900,000 customers nationwide are without power as of this writing. Michigan has been especially affected: More than 729,000 customers are without power according to Poweroutage.us. More than 86,000 customers in Illinois are currently without power, alongside 59,000 in Wisconsin, and more than 26,000 in New York.
The U.S. West has been struggling, too. The usually arid and warm Southern California saw a rare and possibly first-ever blizzard warning. More than 40,000 California customers are currently experiencing outages.
Flights all over the country have been delayed and more than 1,700 have been canceled due to the weather conditions, the BBC reports.
This storm has created a small silver lining for California—it has dropped several feet of snow across the state's mountain ranges. Mountains with the highest elevations, about 6,000 feet above sea level, are forecast to receive up to 7 feet of snow through this weekend. Mountain ranges that are at lower elevations are expected to see about 3 feet of snow. The state's snowpack has been boosted several times this year after a series of consecutive winter storms dropped a lot of snow on California's mountains. Here's hoping the snow sticks around long enough to melt in the spring and refill the state's waterways, which have been extremely low due to a long drought.
Though winter storms are to be expected this time of the year, climate change is creating a new series of extremes. Human-caused climate change is changing and sometimes worsening the severity of winter storms and creating more instances of extreme cold by weakening air currents. And there's no better example of these extremes than the weather this week: Half the country is facing record-breaking warm temperatures while the other half freezes.