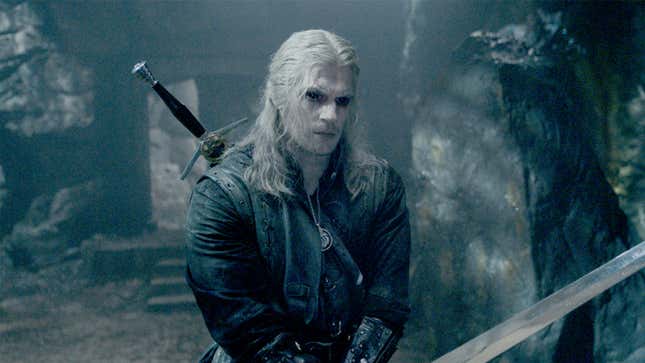 The Witcher's long, curious road through Andrzej Sapkowski's fantasy novels has led to a lot of frustration for some fans—even before the series' messy downward spiral by the back half of season three. But according to a new documentary about the season from Netflix, the team behind the show wanted to patch up one particular point of frustration as part of the season's big fight.


That fight is the big dust-up between Geralt and the mage Vilgefortz, who reveals himself in his hungry quest for power and then resoundingly hands Geralt his backside. Exposed as a villain and the most powerful mage on the Continent with his betrayal, Vilgefortz pompously tells Geralt, "Know what the hardest part was? Holding back. Hiding my real skills, knowing I could take any life at any time. It was exasperating." A line that, according to showrunner and executive producer Lauren Hissrich, was meant to acknowledge frustrated book fans who already knew Vilgefortz's intentions and his might—and make up for the fact we'd seen season one villain Cahir, an ordinary Nilfgaardian soldier, resoundingly beat the mage up during the battle of Sodden Hill at the season's climax.

"One of the things we got questioned the most about in season one is in episode eight, when Vilgefortz and Cahir are fighting, and we actually see Cahir very handily defeat Vilgefortz, and fans were in uproar," Hissrich says in the documentary (via IGN). "There's a great moment, Vilgefortz explains this season that the hardest thing for him about this long game is that he had to hide his skills. When we see his power demonstrated for the first time, it is against Geralt."
It's not exactly like the show was always playing a long game here—but it's at least something of a bone thrown to frustrated Witcher readers about the show's approach to what it does and doesn't take from the original books. Time will tell if that approach will hold as Witcher moves on into its post-Henry-Cavill future next season, and Vilgefortz finds a new face to go up against in the form of Liam Hemsworth.
---
Want more io9 news? Check out when to expect the latest Marvel, Star Wars, and Star Trek releases, what's next for the DC Universe on film and TV, and everything you need to know about the future of Doctor Who.